"Those Teenagers"
---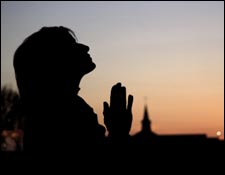 And this is His commandment, that we believe in the Name of His Son Jesus Christ and love one another, just as He has commanded us. 1 John 3:23
Seventeen-year-old Courtney Thorp goes to Shell Rock Senior High School in Iowa.

There's another thing you should know about Thorp. You should also be aware that when she was nine months old she was diagnosed as having cerebral palsy. It is an illness which can negatively affect speech, balance and many other aspects of an individual's life.

Mainstreamed in her education, Thorp, along with her parents, were always dedicated to minimizing those negatives.

Even though she knew her daughter was an upbeat kind of kid, when Thorp's mother heard her only child had been nominated for homecoming queen, she was worried. Yes, the kids at Thorp's school always seemed to be nice, but ... maybe this was some kind of prank: a cruel hoax which some bad-attitude students were playing on her daughter.

Thorp's parents received some degree of peace when the school's associate principal called and assured them the nomination was legitimate, and there was no ill will or cruelty in it.

I have to tell you the night the homecoming king and queen were crowned, Thorp's mom ended up in tears. In her words, "I lost it."

Had the assistant principal been wrong? Nope. Not at all. Mom "lost it" because her daughter's coronation as queen was marked by applause, cheers and high-fives by the rest of the court. The homecoming king said, "It was such a great feeling when she won. ... She comes to school every day with a big smile on her face. She is happy 110 percent of the time. She loves life and she makes the best out of everything. She's a big inspiration to everybody."

So, that's the human-interest story from Iowa.

Now there are two reasons that narrative has been shared. The first reason is because it's easy for these Daily Devotions to center on the sad, the sick, the terrible, and the tragic. For you and for me that can be discouraging and depressing. I felt it was time for something special. The second reason the story is shared is because here is a high school filled with kids who get it.

They get it partly because of parents, partly because of their stable community, and partly because most of them are members at one of the churches in Shell Rock. These kids may not know it, but part of their specialness has to do because they have a special Savior.

From early on most of them were taught that they are sinners who have a Savior who loves them. Indeed, Jesus loved them so much He came into this world to be the sacrifice that would cleanse them of their transgressions and bring them into the family of faith.

Knowing this Jesus the teens of Shell Rock, Iowa, have a different attitude than that which is held by many of the kids around the world who have been raised on hatred and discord. By God's grace may their Savior and their attitude become contagious.

This brings me to the end of this devotion. Hopefully, it has made you feel a bit more thankful for the Redeemer and a whole lot more thankful for some of the Christian kids who are coming after us.

THE PRAYER: Dear Lord, today I give thanks for kids who conquer problems and those who support those who need it. Most of all I give thanks for the Savior who taught us how to love and support someone else. In His Name. Amen.

In Christ I remain His servant and yours,

Today's Bible Readings: Hosea 9-11 Romans 15:14-33
To Download Devotion MP3 to your computer, right click here and select "Save Link As" or "Save Target As" or "Download Linked File As"