"Revenge"
---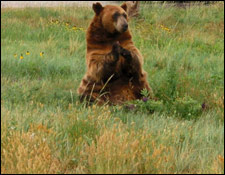 Do not say, "I will repay evil"; wait for the Lord, and He will deliver you. Proverbs 20:22
Just about everybody can understand "an eye for an eye and a tooth for a tooth."

We can understand it because the idea of balancing the scales makes human sense. What is far harder for us to grasp are the words of Jesus when He said, "You have heard it said, 'An eye for an eye and a tooth for a tooth.' But I say to you ... if anyone slaps you on the right cheek, turn to him the other also" (see Matthew 5:38-39).

When we hear those words, we want to say, "But it's not fair! Why should I have to turn the other cheek?"

To that I think Jesus would reply, "If My people don't, the world will be filled with blind and toothless people."

Now the reason I bring this up is because of the reaction to the innocent verdict that was brought in on the shooting of Trayvon Martin. And if you're wondering, what reaction? Allow me to share:

* Members from the Black Panther Party have offered $10,000 "for the capture of George Zimmerman." They said, "We're going to force our government to do their job properly, and if they don't, we will."

* The Black Panthers also said celebrities and athletes are backing their bounty, and they hoped the amount would swell to over $1 million.

* Twitter reports there have been more than 23 different individuals who said something like "(Zimmerman) Not Guilty? Now I Gotta Go Shoot Me A Mexican."

Now I'm not black and I'm not Mexican. I have no vested interest in the trial other than to say this type of vigilantism and bounty hunting is neither American nor is it Christian.

I will let the politicos speak to the societal ramifications, but Scripture has something to say about how God's people are to behave in times of unfairness. Peter wrote, "For it is time for judgment to begin at the household of God; and if it begins with us, what will be the outcome for those who do not obey the Gospel of God? And "If the righteous is scarcely saved, what will become of the ungodly and the sinner?" Therefore let those who suffer according to God's will entrust their souls to a faithful Creator while doing good" (1 Peter 4:17-19).

That was God's way of saying, "In this world things aren't always going to be just and fair. When such unfairness enters into your life, don't react as the world does. Instead, bear up under the difficulty and know the Lord is watching over those who make a witness to the Savior."

In truth, anytime the life of any young person is cut short, it is a tragedy. But that tragedy is compounded -- not diminished -- when members of society express a desire to set aside the legal system and take personal revenge.

Knowing that and hearing the Savior's encouragement to honor, respect and pray for those in authority, we who are saved have an opportunity to present to those around us another way, a better way: a way which glorifies the Lord and will bless all those around us.

THE PRAYER: Dear Lord, I pray that members of our country may live in harmony. Most of all I ask that we Christians live as devoted and faithful followers of the Savior who gave Himself, so we might have life and have it to the full. In Jesus' Name. Amen.

In Christ I remain His servant and yours,

Today's Bible Readings: Psalms 119:1-88 1 Thessalonians 5
To Download Devotion MP3 to your computer, right click here and select "Save Link As" or "Save Target As" or "Download Linked File As"