"How Many Will Die?"
---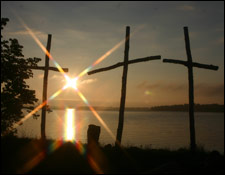 But thanks be to God, who gives us the victory through our Lord Jesus Christ. 1 Corinthians 15:57
Aged five to 12, 23 students in Bihar, India, have died of eating food that was poisoned.

As of this writing, nobody knows if the poisoning was deliberate or accidental. We do know

* a container of pesticide has been found in the cooking area next to the cooking oil;

* the school cooks thought the food smelled funny, but the principal (who has since disappeared), told them to serve the lunch anyway;

* some of the students didn't want to eat, but they were urged to do so.

Before too long the students who ate the lunch began to faint, and then some began to die. Now the funerals are beginning, and the entire community is in mourning. Thinking of those families who have been most affected, I cannot begin to comprehend their pain, their loss, their anger, their realization that things in this world will never again be quite right.

As of this writing, I have no idea how many children are going to die today without knowing the Savior.

For some, death will come after a prolonged and lengthy fight against some illness. For others, their death will be the result of an accident and more than a few will succumb to the cruelty of someone who should have loved them and not hurt them. All of these deaths must ultimately be attributed to the penalty humans pay because they are sinners living in a sinful world.

We can do nothing about the arrival of death.

But because we are helpless that does not mean the situation is hopeless.

Things have been changed because God's perfect Son came into this world to offer His life as the payment price for our transgressions. Now all who believe on Him as their Savior are forgiven and granted a home in heaven.

Jesus' gracious sacrifice means death does not have the final word in our lives, and the grave need not be our eternal resting place. Jesus' victorious resurrection assures those who are left behind that there will be an eternal reunion of the faithful.

Most of all, those who are saddened by the arrival of death can hold fast to the Lord's words of comfort: "Death is swallowed up in victory. O death, where is your victory? O death, where is your sting?" The sting of death is sin, and the power of sin is the Law. But thanks be to God, who gives us the victory through our Lord Jesus Christ" (1 Corinthians 15:54-57).

That is the truth which needs to be shared in India and all around the world. It needs to be shared before death comes for the children.

THE PRAYER: Dear Lord, send Your Holy Spirit upon us and this world. May we reach out to others with Jesus' story of salvation before death comes for them. This I ask in Jesus' Name. Amen.

In Christ I remain His servant and yours,

Today's Bible Readings: Psalms 116-118 1 Thessalonians 4
To Download Devotion MP3 to your computer, right click here and select "Save Link As" or "Save Target As" or "Download Linked File As"