"God Bless You"
---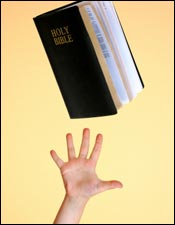 The Lord bless you and keep you; the Lord make His face to shine upon you and be gracious to you; the Lord lift up His countenance upon you and give you peace. Numbers 6:24-26
Those words, the Aaronic blessing, are familiar to many folks who attend a church that follows a traditional liturgy.

We are used to hearing those words in church -- but not in so many other places.

Maybe that's why, when a student and eighth-grade class co-president in New York, wanted to include those words as the conclusion of her farewell speech to her classmates, the Taconic Hills Central School District said, "No."

Their reasoning was simple: her words asking the Lord to bless and keep her, along with her classmates, sounded "too religious." Too religious, is it?

Well, one author recently stated that Shakespeare made no less than 1,300 biblical quotes and references. I wonder how many schools are going to take the bard's writings off their shelves because they are too religious.

Then, of course, there is Abraham Lincoln, the president who is credited with having authored some of the greatest speeches in the history of the English language. Lincoln regularly referred to and quoted the Bible in his presentations. Maybe we ought to take his "House Divided" speech and his second inaugural address out of the public domain.

Inspired by words and thoughts from the Bible, they, too, might sound too religious.

Or maybe it's just eighth-grade graduates who can be guilty of being too religious.

I don't know. I do know that attorneys for that student have gone to the U.S. Court of Appeals, where they have asked for a reversal of a three-judge panel's decision against the young lady.

The attorneys believe "the First Amendment does not allow public schools to exclude students of faith from fully participating in important events, like graduation, by requiring them to put a lid on their expressions of faith."

I agree.

On the other hand, I wonder what would happen to us if the Lord ever took us at face value and honored our requests to be free of His blessing and keeping. How would our lives be changed if He wasn't gracious toward us? How could we go on if He didn't give us His peace?

Thankfully, the Lord doesn't usually work that way. As St. Paul wrote, "If we are faithless, He remains faithful -- for He cannot deny Himself" (2 Timothy 2:13).

Even so, I pray our nation will be such that a young person may never be forbidden from asking God to bless her classmates and herself.

THE PRAYER: Dear Lord, when You look down upon us, we must seem very silly. The idea that we could exist -- even for a second -- without Your ongoing intervention and blessing is ridiculous. That is why we pray the courts of our nations, as well as our educators, may not forbid You from being part of the lives of those who come after us. Let those in authority realize the souls of these young ones need to be nourished, along with their bodies and minds. In Jesus' Name. Amen.

In Christ I remain His servant and yours,

Today's Bible Readings: Leviticus 21-22 Mark 10:1-31
To Download Devotion MP3 to your computer, right click here and select "Save Link As" or "Save Target As" or "Download Linked File As"