"Ignorance of the Law Is No Excuse"
---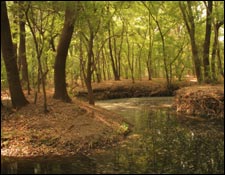 For all have sinned and fall short of the glory of God, and are justified by His grace as a gift, through the redemption that is in Christ Jesus. Romans 3:23-24
One question every one of my confirmation classes would ask is "Suppose a person never hears about the Law or Jesus. Would he still go to hell?"

I would try to explain my "yes" answer by sharing an illustration about an imaginary man who drives 65 mph in a residential area. The policeman writing his ticket really doesn't care if the man saw or didn't see the sign, which reduced the speed limit to 30.

It was my way of saying penalty is based on guilt not knowledge or intent.

Now I have a real illustration of that fact. Last month Ryan William Waterman posted some pictures of himself and his children on his Facebook page. Those pictures showed the family playing with, cuddling, sitting on, and picking up a baby manatee while they were in Florida.

That's a no-no.

This is why Ryan Waterman has been arrested for violating the Florida Manatee Sanctuary Act, which says it is illegal to molest, harass or disturb manatees. He has also violated the Marine Mammal Protection Act of 1972, which says it's illegal to hunt or get close to all marine mammals.

Apparently, those are some serious crimes.

In his defense, Waterman spoke to a local TV reporter and said he meant the manatee no harm and he didn't know it was illegal to touch it.

I can understand. Most people don't make a practice to read documents like the Marine Mammal Protection Act of 1972 and the Florida Manatee Sanctuary Act. Such official, legalese documents often go under our radar.

Still, ignorance of the law is no excuse. Not when it comes to manatees, not when it comes to violating the Lord's laws. Penalty is based on guilt -- not knowledge or intent.

Now, I don't know what will happen to Mr. Waterman. I do know what will happen to sinners. They will either be punished or they will be forgiven. Punishment always follows the sin unless Jesus Christ intervenes.

Thankfully, intervention is what Jesus has done. Through His perfect, temptation-declining life and His unjust suffering and death Jesus has taken our punishment, and by His action those who believe on Him as Savior are forgiven, even when they unintentionally sin or if they unknowingly break God's laws.

THE PRAYER: Dear Lord, every day I commit many sins. Whether these violations were committed with knowledge or in ignorance, I give thanks the Savior has already taken my punishment and paid their penalty. Now, as a forgiven believer, may my life reflect the joy and salvation I have received from Him. In Jesus' Name. Amen.

In Christ I remain His servant and yours,

Today's Bible Readings: Leviticus 17-18 Mark 9:1-29
To Download Devotion MP3 to your computer, right click here and select "Save Link As" or "Save Target As" or "Download Linked File As"