"God's Word"
---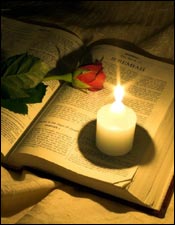 Your Word is a lamp to my feet and a light to my path. Psalms 119:105
During the years when I had the opportunity of confirming the young people of my congregations, I worked hard at finding a Bible verse that would be a suitable motto for life for each of my students.

Most pastors do the same.

Knowing that, when an aged member of my congregation passed away, I was not surprised when the family requested I use his confirmation text as the basis for his funeral message. No, they didn't know what the verse was, since his certificate was written in German. Even so, they thought the verse, given so many years before, would be appropriate. Without checking the verse, I agreed.

Only when I got back to my study and took the certificate out of its yellowed envelope did I find the verse my 93-year-old member had been given by his pastor was the opening words from 2 Timothy 2:22. "Fliehe die Lüste der Jugend" or "Flee youthful lusts."

It was an interesting message.

Almost all of us have verses from Scripture that are special to us. Last year the folks running the online King James Bible kept track of the verses, which had been most viewed.

Would you like to make a guess which one topped the list?

If you said Psalm 23:4, you would be correct. "Yea, though I walk through the valley of the shadow of death, I will fear no evil: for Thou art with me; Thy rod and Thy staff they comfort me." The second most-consulted verse was Philippians 4:13. "I can do all things through Christ which strengtheneth me."

Interesting, the most consulted passages were ones which speak of the sinner's need for the Lord's help at the time of death and through the difficulties of day-to-day living.

Christians are blessed because they know the Lord will be with them. His love covers and reaches into every aspect of our lives. That truth is shown in the verse which was third on the list of most-consulted passages: John 3:16, the Gospel in a nutshell, "For God so loved the world, that He gave His only begotten Son, that whosoever believeth in Him should not perish, but have everlasting life."

Because of Jesus' sacrifice, because He carried our sins and died the death our transgressions had earned, believers know they are not alone. They hold fast to the truth, which tells us nothing -- nothing in all creation -- can ever separate us from the love of God, which is ours through Christ Jesus.

THE PRAYER: Dear Lord, I give thanks for Your holy Word which assures me that Your grace has reached out and saved me. Now may I live my life in thanksgiving and praise for the selfless sacrifice of Your Son. It is in His Name that I pray. Amen.

In Christ I remain His servant and yours,

Today's Bible Readings: Job 14-16 Matthew 10:1-20
To Download Devotion MP3 to your computer, right click here and select "Save Link As" or "Save Target As" or "Download Linked File As"