"Pay for the Cross"
---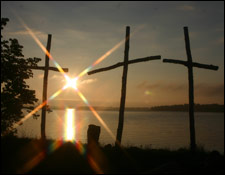 (God) who desires all people to be saved and to come to the knowledge of the truth. 1Timothy 2:4
I won't make any excuses for Tamon Robinson.

Robinson shouldn't have been stealing decorative paving stones. When the police spotted him, he shouldn't have tried to drive away. When he was cornered, he shouldn't have tried to escape on foot.

Still, his death is a tragedy. Depending on who you talk to, Robinson either accidentally hit the squad car trying to catch him or he was intentionally clobbered.

Sanford Rubenstein, attorney for Robinson's family, says there are some witnesses who said the 27-year-old was deliberately pinned against a guard rail by the police vehicle.

Robinson's death is a tragedy.

Insult was added to the tragedy when the family received a bill for $710 to repair the squad car that hit him, and a threat of a law suit, if they didn't pay the cost of refurbishing the vehicle.

I can understand why Robinson's family was devastated and why they have filed a countersuit.

I can understand, but apparently the Lord doesn't work that way.

Consider. Unlike Robinson, God's Son was innocent of any sin and guiltless of all crime. Even so, on His mission to save lost and condemned humanity He was hounded by the Pharisees, betrayed by a friend, and deserted by His disciples. Paying our ransom, He was beaten, whipped, spat upon, and lied about. He was set up and condemned by His religious leaders and sent to the cross by a frightened Roman procurator.

All this Jesus did so all who believe on Him as Savior would not perish but be blessed with the blood-bought gift of everlasting life.

And while Christians are eternally thankful for what Jesus has done, the world still despises Him. If they could, they would charge God for the price of the cross on which Jesus was crucified and the nails which held Him there.

In spite of their reaction, the Lord does not pay anger for anger, hatred for hatred.

On the contrary, God still reaches out, still wishes to save, still wishes to rescue, still wishes to move sinful souls from damnation to salvation.

Why?

It's because as our text says, God "would have all men to be saved and to come to a knowledge of the truth."

THE PRAYER: Dear Lord, Jesus has done all which was necessary, so I might have salvation. May my life reflect my gratitude. Today I would like to pray for those who still reject their Savior. May they be brought to repentance and faith before the day of their judgment. In Jesus' Name. Amen.

In Christ I remain His servant and yours,

Today's Bible Readings: Jeremiah 20, 35-36 Colossians 4
To Download Devotion MP3 to your computer, right click here and select "Save Link As" or "Save Target As" or "Download Linked File As"