"God Is Looking Out For You"
---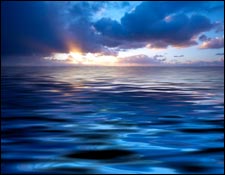 But God, being rich in mercy, because of the great love with which He loved us, even when we were dead in our trespasses, made us alive together with Christ -- by grace you have been saved -- and raised us up with Him and seated us with Him in the heavenly places in Christ Jesus. Ephesians 2:4-6
This month our weekender devotions have been talking about things serendipity. By that we mean, those rare and special times when people look for one thing and discover something better.

Today's devotion is a bit of an exception.

You see, back in 1949, Jack Wurm was broke and out of a job. As a result, he spent a lot of time walking along the shore in San Francisco, so the story goes.

Wurm walked, and he thought, but he wasn't looking for anything.

It was then, when he wasn't looking for anything, that Wurm was given his moment of serendipity. He came across a bottle with a piece of paper in it. The paper said this was the last will and testament of Daisy Singer Alexander; that's the Daisy Singer Alexander, the heir to the Singer sewing machine fortune.

Twelve years earlier, the heiress had thrown the bottle into the Thames River in London. From there it drifted across the oceans to land at the feet of penniless Jack Wurm.

Wurm's serendipitous discovery ended up with him receiving $6 million in cash and some stock in the Singer Company.

No doubt many of our Daily Devotion readers are thinking, ah, if only such a thing could happen to me.

If that's what you're thinking, please believe me when I say such a thing has happened to you. Yes, such a thing has happened to you and better.

You see there was a time when you were spiritually blind, dead, and an enemy of God. Obviously, anyone who is spiritually dead is not looking for anything or anybody. But our incapacity doesn't mean God wasn't looking for us.

Long before we were ever born, He had put into place a plan to save us. It was a plan which called for His Son to be born, to live, suffer and die. It was a plan which demanded Jesus pay the total price to redeem us from sin, Satan and death.

It was that plan which the Holy Spirit brought with Him on the day He came to us. Then, while we were yet dead, He found us, called us, and placed saving faith within us. The gift of faith -- far more valuable than any Singer fortune -- offered the assurance we were forgiven, adopted in to the family of faith, and had been given eternal life.

Serendipity?

I would say so. So would Jack Wurm. After all, the only thing his moment of serendipity brought him was stock and money, but you and I have been given forgiveness and eternal life.

THE PRAYER: Dear Lord, there are times when we look with envy at those who seem to prosper in regard to things temporal. Help us remember and always be grateful for the fact that when we were spiritually dead, You found us and gave us everlasting life. This I ask in the Name of Jesus, whose life was the payment price for my salvation. Amen.

In Christ I remain His servant and yours,

Today's Bible Readings: 1 Chronicles 28-29 1 Corinthians 15:29-58
To Download Devotion MP3 to your computer, right click here and select "Save Link As" or "Save Target As" or "Download Linked File As"