"They Really Do"
---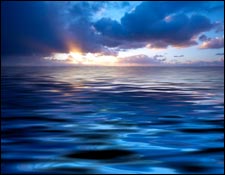 And we know that for those who love God all things work together for good, for those who are called according to His purpose. Romans 8:28
There are times when I wish my vision of the future was as clear as it is looking backward.

Let me explain. Years ago there was a Scottish family named Clark. They shared a dream of coming to the United States. To do so they struggled, scrimped and saved. Finally they had enough saved up and reservations were made.

Then, with a week to go ... tragedy. Their youngest, a little boy, was bitten -- bitten by a dog. The bite wasn't serious, the possibility of rabies was. The doctor hung a yellow quarantine sign on the family's front door. The sign would stay up for two weeks ... their ship sailed in one.

The father, outraged at his sacrifices which had come to naught, was furious. He went down to the dock to see his ship set sail. After the departure, in a most foul mood, he stomped home. He stayed out of sorts until April 15th.

On April 15th they found that their ship, the Titanic, had gone down with 1,500 lives. Instantly, Mr. Clark's attitude was transformed. The boy's bite had become a blessing and no longer a curse.

Now I have seen that kind of story repeated again and again.

Goodness, you and I have lived that story again and again. Things about which we were angry, things over which we felt God had let us down -- all of a sudden are transformed. Looking back we see His guiding hand and His loving heart most clearly.

You know, that sort of thing has happened so often you would think we should know that the Lord can bring good out of any bad situation. "God has brought good out of your bad intentions" (see Genesis 50:20); that's what Joseph said to his brothers. It's what Paul wrote to the church at Rome.

It's what we should know will happen. After all, if God took care of us by sacrificing His Son, won't He continue to do so in other, smaller matters?

Of course He will.

THE PRAYER: Dear Lord, I believe, help my unbelief. Help me know and believe that You are in control and as a loving Father You will, ultimately, do what is best for us. Please grant me the Holy Spirit so I may accept without always understanding. This I ask in the Name of my Savior. Amen.
In Christ I remain His servant and yours,

Today's Bible Readings: Jeremiah 9-10 Colossians 1
To Download Devotion MP3 to your computer, right click here and select "Save Link As" or "Save Target As" or "Download Linked File As"