"Laughing"
---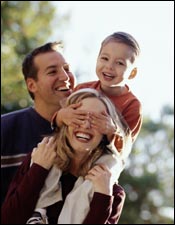 A time to weep, and a time to laugh; a time to mourn, and a time to dance. Ecclesiastes 3:4
The researchers at the University of Oxford found out that a snicker isn't going to do the job.

A smile doesn't come close.

Only a hearty, sustained belly laugh can release the endorphins and chemicals which enable people to better deal with their pain. To be honest the researchers concluded all kinds of other things, but that was the part that I liked. In short, they discovered that laughter is one of the best medicines.

And so is Jesus.

Yes, I know that the term belly laugh is never used in Scripture. Neither Matthew, Mark, Luke or John spoke of how they got together and traded good, old-fashioned, knee-slappers.

On the other hand, if any person looks, he will quickly find that Jesus' Name and presence is often connected with the idea of joy. Indeed, this devotion doesn't have room to list all the times Jesus and joy go together. Here are just a few examples from the Gospel of Luke:

Luke 1:14 - The Savior's forerunner, John, will bring joy and gladness.

Luke 1:44 - Unborn John leaps with joy at the approach of Mary and the Savior.

Luke 2:10 - The angel says that Jesus is good news of great joy for all people.

Luke 15:10 - There is joy in heaven when a sinner repents.

Luke 24:41 - It is joy at the risen Savior which overwhelms the two disciples from Emmaus.

Luke 24:52 - After Jesus ascends, the disciples return to Jerusalem with great joy.

Now the point this devotion is trying to make is this: the Savior has carried our sins and removed them; He has done all that was necessary to move us from hell to heaven; He has brought about our adoption into the family of faith; He has promised to bring us to a place where there is no pain or tears or sorrow.

If these things are not reasons to be joyful, I don't know what would be.

Which is why, if your faith isn't bringing about that joy, you just might need a recharge. If that is the case, I would seriously encourage you to take a look at the Gospels and see what wonderful things the Savior did and said and promised ...

for you.

THE PRAYER: Dear Lord Jesus. Once I knew only sadness and sorrow. Because of what You have done, my life has been turned inside-out and topsy-turvy. And that turning has been infinitely for the better. Thank You. In Your Name I give thanks. Amen.

In Christ I remain His servant and yours,

Today's Bible Readings: Isaiah 43-44 Romans 8:1-21
To Download Devotion MP3 to your computer, right click here and select "Save Link As" or "Save Target As" or "Download Linked File As"