"Deliverance and Praise"
---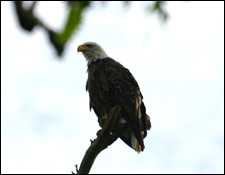 You exalted me above those who rose against me; You delivered me from men of violence. For this I will praise You, O Lord, among the nations, and sing praises to Your Name. 2 Samuel 22:49-50
A few years ago, Lutheran Hour Ministries, working with the Synod's Chaplain's office, allowed me to write some prayer books. One of those booklets was for our military, and the other was to be used by family and friends who pray for the folks who are in the service.

It was an opportunity I cherished. You see, throughout his time as a prisoner of war, my father had used the Military Prayer Book written by the first Lutheran Hour Speaker Dr. Walter A. Maier.

Today I would like you to join me in saying Thank You to the Lord for a most unusual and unexpected blessing.

As you know, in 2003 America began an invasion of Iraq. Since that time 4,474 American service members have died. Every month since the war began, some representatives from a military unit, accompanied by a chaplain, have had to visit with a next of kin and deliver the tragic news that a beloved serviceperson won't be coming back alive. Every month those visits have been made ...

except for the month of August 2011.

During that entire month not a single member of the American Forces died in Iraq.

Not a single combat person. Not a single non-combatant.

Not a single victim of fighting. Not a single victim of an accident.

Although I haven't been able to find any statistics one way or another, I am forced to believe there have not been many times in the world's history where a country which was at war -- which had troops on an active battlefield -- could say that.

So, I pray that you will join me in a most unusual prayer of thanksgiving: a prayer giving thanks for life.

THE PRAYER: Dear Lord for the many things which did not happen to our troops in Iraq we wish to give thanks. For the roadside bombs that missed their mark, for the snipers' shots which went astray, for the mortar rounds which fell far short, for the foot on a dark path which didn't slip, we give thanks. Lord, You have given us a most unusual blessing. Now we pray You will continue to keep our sons and daughters safe until they return home to us. Protect them from their enemies both earthly and demonic. Protect and keep them in the love of their Savior. In Jesus' Name. Amen.

In Christ I remain His servant and yours,

Today's Bible Readings: Isaiah 7-8 Acts 20:17-38
To Download Devotion MP3 to your computer, right click here and select "Save Link As" or "Save Target As" or "Download Linked File As"