"Transition"
---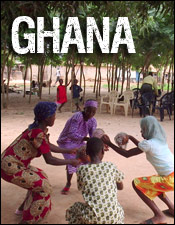 Listen, I tell you a mystery: We will not all sleep, but we will all be changed, in a flash, in the twinkling of an eye, at the last trumpet. For the trumpet will sound, the dead will be raised imperishable, and we will be changed. ... The sting of death is sin, and the power of sin is the Law. But thanks be to God! He gives us the victory through our Lord Jesus Christ. 1 Corinthians 15:51-52, 56
Dear Brothers and Sisters in Christ:

The salvation story of Jesus Christ reaches around the world. So that the readers of our Daily Devotion may see the power of the Savior on a global scale, we have asked the volunteers of our International Ministry Centers to write our Friday devotions. We pray that the Spirit may touch your day through their words.

In Christ, I remain, His servant and yours,
Kenneth R. Klaus
Speaker of The Lutheran Hour



In Ghana there is a newspaper announcement which carries the caption, "Transition."

To understand this fully you must know the meaning of the word. The dictionary defines transition as "the process of changing from one state, activity, or place to another."

So, just what is this newspaper announcement all about? If you read on, you will find this is an obituary notice. Someone has died and information about his or her passing is being put in the newspaper for family and friends to read.

Many would question the headline, "Transition." That's because they see death as an end. They face it with fear and trepidation. They do everything at any cost to postpone the inevitable -- for all will die.

Christians, however, truly label death as a transition.

We know that life on earth is temporary. We feel the longing of the traveler who enjoys the trip but ultimately is glad to be home. That is what brings meaning to the expression that Christians are "in the world but not of the world."

This becomes our reality because we live in the good news that our Savior has made this transition before us.

He has died so the sting of death is gone.

He has been victorious over death so we can share His victory. For us, then, death is not to be feared but aptly viewed as a transition begun in our baptism, a part of the eternal life we celebrate.

Each day for the Christian is one step closer to going home.

Until we make that transition, we follow Scripture which reminds us to apply our hearts to wisdom and share Jesus' message with all we meet.

And what is that message? It is simply this: because of our blessed Savior, Jesus Christ, we can share the good news of sins forgiven and life eternal which takes place through His death and resurrection. We can tell the world that because of Jesus death is merely a transition.

THE PRAYER: Dear Jesus, thank You for being with me as I head home. Let me share Your victory message with those who do not know the news of eternal life. In Your Name I pray. Amen.

Biography of Author: Today's international devotion comes to us from a Lutheran Hour Ministries' volunteer in Ghana. We pray these words may be a blessing to your day. In this West African country of nearly 24 million people, LHM-Ghana uses Equipping the Saints (ETS), conducts performing arts dramas, engages in children's ministries, and reaches out to prisoners by supplying them food, Christian literature and clothing.


To learn more about our International Ministries, click here or visit www.lhmint.org.

In Christ I remain His servant and yours,

Today's Bible Readings: 2 Chronicles 19-20 2 Corinthians 7
To Download Devotion MP3 to your computer, right click here and select "Save Link As" or "Save Target As" or "Download Linked File As"