"The Difference"
---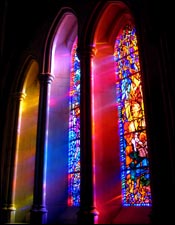 (Jesus said) "You have heard that it was said, 'You shall love your neighbor and hate your enemy.' But I say to you, 'Love your enemies and pray for those who persecute you.'" Matt 5:43-44
The Pakistani village of Ghondi had established a resistance organization against the Taliban.

It was a brave thing for them to do. Still, their work had not been without positive results. During the previous week the village had managed to kill two Taliban fighters and destroyed three Taliban hideouts.

The courageous Taliban responded in the only way they knew. They rigged up one of their suicide volunteers with 22 pounds of explosives and told him to go to worship at the mosque.

There, where approximately 300 people, men, women and children were praising their lord, he flipped the switch and achieved a martyr's death. He also took with him more than 50 souls and injured more than 120. With pride the Taliban boasted that their reprisal was a bit of revenge.

You know, an eye for an eye and a tooth for a tooth.

Sadly, folks who follow that line of reasoning -- and that includes much of the world -- fail to realize that pretty soon everyone is blind and toothless.

In contrast to what man's logic says is reasonable, we have the Savior's encouragement to love our enemies and pray for those who persecute us.

It's a mighty tall order. Indeed, many people might ask, "Who can do such a thing? It's just not normal."

Who can do such a thing? Scripture tells us that Jesus could and did. Through the pain of the cross, over the mockery of those who rejoiced He was dying, Jesus prayed for those who considered Him an enemy, who were responsible for His condition.

But Jesus didn't confine Himself to praying for those few who had called for His crucifixion or who had wielded hammer and nail. When Jesus went to the cross He was carrying your sins, my sins, and the sins of the entire world.

Those works of rebellion which had alienated us from the Father were all there that day. And Jesus died so that we might be forgiven, so we might be adopted back into the family of faith, so that we might be saved.

Love your enemies.

It is just one of the things which separates Christianity from the Taliban murderers -- one of the things which makes believers separate from suicide bombers.

THE PRAYER: Dear Lord, it is not a natural or normal thing for me to love my enemies or pray for those who are abusing me. This is why I need the Holy Spirit to give me the faith and will to follow the Savior's example. In His Name. Amen.


In Christ I remain His servant and yours,

Today's Bible Readings: 2 Chronicles 17-18 2 Corinthians 6
To Download Devotion MP3 to your computer, right click here and select "Save Link As" or "Save Target As" or "Download Linked File As"