"First Things First"
---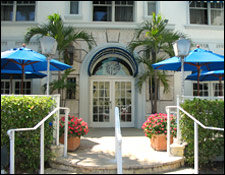 (Jesus said) "But whoever drinks of the water that I will give him will never be thirsty again. The water that I will give him will become in him a spring of water welling up to eternal life." John 4:14
A number of years ago, His Highness Sheikh Mohammed bin Rashid Al Maktoum decided to make Dubai into a mecca for tourism.

Just one of his projects was the creation of some man-made islands -- islands which were to be filled with homes, apartments and resort hotels: the best homes, apartments and resort hotels money could buy.

Well, one of those islands, Palm Island, is complete. Folks who have bought houses there have paid premium prices for these homes, which have and are the best of the best.

Some of the cheaper shacks on the island started selling at $1.5 million, and $10 million would have put a person into a pretty cushy home. Of course, that was when the places started selling. Since then inflation has set in and the costs have gone up considerably.

Now you might imagine the owners would be completely content in their modern-day Eden. If you imagined that you were wrong. That's because the island has had a problem -- a plumbing problem. This problem began when one of the water pipes began to leak. One leaky pipe led to others, and soon the homeowners found not a single sink, shower or toilet would work.

It was a problem which went on for days. At least one person has said, "It doesn't make much difference how much you pay for your home, if you don't have water, the place is worthless."

Jesus said much the same thing to the Samaritan woman at the well.

Speaking to humankind's spiritual thirst, Jesus said He was the water that would completely and eternally satisfy.

And what is this spiritual thirst? It is everyman's heartfelt desire to have his sins removed; it is a hope to find peace; it is a longing to know that when his life is over, there will be hope and heaven awaiting him -- not despair and damnation.

So that we might have that spiritual thirst quenched, Jesus entered this world. To that end, He lived a perfect life, resisted all temptations and carried our sins with Him to the cross. Then, by virtue of His resurrection from the dead, He showed that not even death could rob us of the living water, which Holy Spirit-given faith in Him provides.

No, it doesn't make much difference how much you have or what you own, without Jesus life is an unending, unmet thirst.

With Him, with His living water, there is spiritual satisfaction and salvation for the soul.

THE PRAYER: Dear Lord, for all the earthly blessings You have given me -- gifts I often take for granted -- I wish here and now to show my appreciation. Even as I do so, I recognize these things are unimportant without the Savior. That You have sent Him and placed faith within me is the most precious blessing of all. In Jesus' Name, I give thanks. Amen.

In Christ I remain His servant and yours,

Today's Bible Readings: 1 Chronicles 23-25 1 Corinthians 14:21-40
To Download Devotion MP3 to your computer, right click here and select "Save Link As" or "Save Target As" or "Download Linked File As"