"I Knew That"
---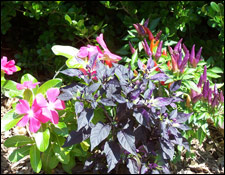 God is our refuge and strength, a very present help in trouble. Therefore we will not fear though the earth gives way, though the mountains be moved into the heart of the sea. Psalm 46:1-2
It has been a long time since I wrote a devotion that referenced the American Psychological Association. It's been even longer since I referred to one of the studies published in the Journal of Clinical Psychology.

Even so, that is the situation today.

And if you're wondering just what has the association and the journal said which merits this mention, I will be glad to share: They have discovered that those folks who believe in a kindly God tend to worry less than those who believe in an unconcerned or vengeful Deity.

Understand, the Association isn't saying there is such a God. As a scientific group, they wouldn't, they couldn't go that far. All they are saying is belief in a nice God offers benefits over believing in a nasty God.

They might have saved the money they spent on doing those studies.

All they really had to do was read the opening verses of Psalm 46. There the writer confesses that the Lord was his refuge, his strength, a source of help and assistance when difficulties arise.

All they had to do was consult with the millions upon millions of Christians who have been called to faith in the crucified and risen Savior.

If they had, they would have heard how the living Lord was there to comfort widows and widowers, to give hope to parents with sick children, to provide light when the path ahead seemed to be filled with darkness.

It is my hope and prayer that every person who reads this Daily Devotion knows this benevolent Lord ... and relies upon Him, even when, no make that especially when the earth is moving under their feet and all that once seemed to be certain is sliding into the sea.

If you don't know this Lord, before the day is over go to Bethlehem and see the newborn Child, God's Son, your Redeemer. Walk with Him during His years of His ministry and see how He loved those who seemed to be unlovable, gave hope to those who had none.

Look at the cross and see Him carry your sins; run to the empty tomb and know that Jesus lives and He loves you.

THE PRAYER: Dear Lord, I give thanks that You have, in Your grace, brought me to faith in the Savior of Sacrifice. May I, because of what He has done, always look to You as my refuge and strength. In Jesus' Holy Name I pray. Amen.

In Christ I remain His servant and yours,

Today's Bible Readings: 1 Chronicles 16 Psalms 42,44 1 Corinthians 10:1-18
To Download Devotion MP3 to your computer, right click here and select "Save Link As" or "Save Target As" or "Download Linked File As"