"Repent!"
---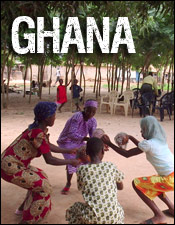 (John the Baptist) said ... "Repent for the kingdom of heaven is near." Matthew 3:2b
Dear Brothers and Sisters in Christ:

The salvation story of Jesus Christ reaches around the world. So that the readers of our Daily Devotion may see the power of the Savior on a global scale, we have asked the volunteers of our International Ministry Centers to write our Friday devotions. We pray that the Spirit may touch your day through their words.

In Christ, I remain, His servant and yours,
Kenneth R. Klaus
Speaker of The Lutheran Hour



I have seen a striking painting of John the Baptist.

The artist portrayed him as lean and sun-bronzed, wearing his rough-skinned clothing, with a full beard and a most remarkable feature: piercing eyes.

These eyes are not the hunted, haunted eyes of a fanatic -- driven wild by religion. No, they show the soul of a man who is dedicated to his mission: the sharing of a message which he must give to the world.

The title of the painting is: "Repent, for the Kingdom of God is at Hand!"

Two thousand years ago, just about the only people surprised at John's preaching of repentance were those who felt deep down in their hearts that repentance was for others. They were the same people who were surprised when our Lord told the story of the shepherd, leaving his 99 sheep in the wilderness in order to go out and find the lost one.

The world today is filled with their spiritual descendants.

Like the religious people of John's time, our contemporaries know exactly who should hear this message of repentance. They know John's message is for their neighbors, the great sinners, the unbelievers and the non-churched members.

They point to everyone -- to everyone other than themselves. They don't want to be among those upon whom John put his branding iron: "Repent and quit bragging about what wonderful people you are, what wonderful ancestry you have enjoyed, and what marvelous resources you have at your disposal!"

John wanted his listeners in every age to know that repentance is not superficial. You can never say to God, "I repent. I've completed my part of the bargain. Now You take care of Your share."

Repentance sees sin for what it is and the forgiveness of God for what it is: our only hope. It receives the forgiveness of God as the only gift.

THE PRAYER: O Lord Almighty, help us to know we are sinner saints and that we need to live in daily repentance. Scripture tells us the Christ never committed any sin, but He carried our sins in His body onto the cross. Because of what He has done, we are freed from our sins and can live a life which has God's approval. Christ's wounds have healed us. In the Savior's Name I rejoice. Amen.

Biography of Author: Today's international Daily Devotion comes from the Lutheran Hour Ministries' office in Ghana, known locally as Lutheran Media Ministry. In this West African country of nearly 24 million people, LHM-Ghana uses music, dance and storytelling to share the love of Jesus. A musical group, The Harps, ministers regularly in public through song. Other mission efforts vital to this nearly 20-year-old ministry center are Equipping the Saints (ETS), children's ministry activities and prison outreach, where the incarcerated are supplied with food, Christian literature and clothing.


To learn more about our International Ministries, click here or visit www.lhmint.org.

In Christ I remain His servant and yours,

Today's Bible Readings: Psalms 127-129 Acts 18
To Download Devotion MP3 to your computer, right click here and select "Save Link As" or "Save Target As" or "Download Linked File As"