"Just A Taste"
---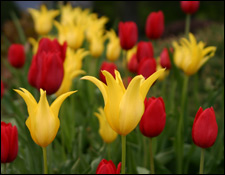 Train up a child in the way he should go; even when he is old he will not depart from it. Proverbs 22:6
Recently, one of our Daily Devotions caused a number of our readers to respond with stories from their past. One of the sweetest was this which was shared by Jeanette Eaton. We thank her for letting us see this vignette of a Christian household. It was a blessing to me as I pray it will be to you. Pastor Klaus

Every once in a while one of the Daily Devotion listeners shares a story with me that is worth repeating. One such story came from Jeanette Eaton.

Eaton shares how years ago her mother baked a cake (chocolate, of course) for a church picnic the family was to attend. As Eaton went out the back door, she saw the cake and gave it a test. She put her finger in it and, well, this is how she told me: "I went ahead and put my finger in it. And oh so good, but I wasn't smart enough to cover it up, and I just went on outside."

"Later, of course, my mother was displeased. Mom was displeased, but it was daddy who lined us up and asked, 'Who did it?' Of course, nobody confessed. Daddy took each of us into the kitchen, saving me for last because I was the oldest. When he took me to the kitchen, he put my finger in the hole. Just as a leopard can't change its spots, a third-grader can't change her finger size. I had been discovered and was rightly punished.

"But I learned something that day. And, even though I did my share of more bad things, I never told my daddy another lie. Daddy knew that. I'm glad he did. That's because later when I was confronted and accused of lying, my daddy just said, 'She may be guilty of a lot of things, but she's not a liar.'"

Now there are a lot of ways I could use Eaton's story.

Allow me to say this. Each day you and I commit many sins. Each day the Lord discovers us in those sins and because of His Son's sacrifice forgives us of them.

In these things our story is like Eaton's.

But I wonder how many of us can say, "I learned something that day"?

I wonder how many of us can confess, "I never did that sin again"?

It would be a good thing if we did. You see, repentance is not just being sorry for what we've done in the past; it's striving not to repeat the sin in the future.

It's the second part of repentance that's hard; it's the second part I'm going to have to work at.

And I invite you to join me in trying.

THE PRAYER: Dear Lord, I truly am sorry for my sins. Now I pray that my faith may be of a quality that I am sorry enough to leave behind those sins and habits of which I am repentant. This I ask in Jesus' Name. Amen.

In Christ I remain His servant and yours,

Today's Bible Readings: Psalms 104-105 1 Thessalonians 1
To Download Devotion MP3 to your computer, right click here and select "Save Link As" or "Save Target As" or "Download Linked File As"