"Not My Problem?"
---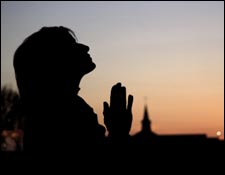 If anyone says, "I love God," and hates his brother, he is a liar; for he who does not love his brother whom he has seen cannot love God whom he has not seen. And this commandment we have from Him: whoever loves God must also love his brother. 1 John 4:20-21
Recently, Cuban scientists came out with the prediction that the sea levels around that country would rise about 30 inches by the end of the century.

My immediate reaction was "Wow, that's pretty scary!"

My second reaction was "What am I worried about?" I don't live in Cuba, and by the end of the century I'm going to be, let's see ... I'll be over 150 years old. Maybe, just maybe, I'll start worrying about sea levels when I reach my 110th birthday.

My last reaction was the one I still have: if everyone has the attitude which says, "It's every man for himself," then this world is going to remain a pretty sad place. Well, actually, because of sin, it will always be a place of sadness and sorrow.

But that doesn't mean as a Christian I should accept and even go along with their dismal and dark prognostication. Because of the redemption and salvation given to me by Jesus, I have been offered an opportunity to thank Him by living my life by helping others.

That's what John was trying to share with his listeners when he wrote you can't love God and not let that love reach out to other human beings. In doing that which is kind and right to them, we do that which is kind and right to the Savior.

Now I'm not a pushy do-gooder; you probably aren't either.

Be that as it may, I pray you will join me in lovingly doing what you can, as often as you can, for as many people as you can. In the Savior's Name, let's reach out and let our lives reflect the wonderful and positive differences Jesus has brought about in our lives and hearts.

Let us do what we can for the people of Cuba with their rising water, or the tornado victims of Joplin, or the people in your church and community who have a special need.

Let's do it because it's right, because Jesus asked it and, because -- who knows -- we may live to be 150.

THE PRAYER: Dear Lord Jesus, You came to earth so we would not be isolated, alone or condemned. For all that You have unilaterally done for us, we give thanks. Now may we -- motivated by our forgiven and thankful hearts -- live our lives as a witness and blessing for others. In Your Name. Amen.

In Christ I remain His servant and yours,

Today's Bible Readings: Ecclesiastes 1-3 Acts 9:1-22
To Download Devotion MP3 to your computer, right click here and select "Save Link As" or "Save Target As" or "Download Linked File As"