"Being Connected"
---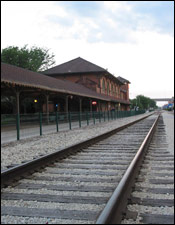 He (Jesus) said to me: "It is done. I am the Alpha and the Omega, the Beginning and the End. To him who is thirsty I will give to drink without cost from the spring of the water of life." Revelation 21:6
It's another week already, and I have a question for you.

Are you connected? Recently, a Midwestern hospital found out it hadn't been ... connected, that is.

Here's the story: for 35 years a certain unnamed hospital had relied upon its water safety equipment, in case of fire.

Surprisingly, the water main had never been attached to the city's water supply. The pipe that led from the building extended four feet underground, and there it stopped! For 35 years the medical staff and patients had placed confidence in an unconnected system.

Theirs was a false security. The costly equipment, the polished valves, the well-placed outlets -- everything was more than adequate except for the one thing that was most needful: there was no water!

This leads me to ask, are you connected? Certainly, your life has all the necessary outward trappings.

You have a home, food, a television and radio, clothing. But are you connected? Are you connected to the one Person who can save you in case of catastrophe? If so, it is cause for rejoicing: you have the one Thing, the one Person who is needful. You are blessed to call Jesus, "Savior."

On the other hand, if you aren't connected to the Savior, you should know how much He loves you and what He has done so you might be saved. So that you may know, look to the cradle of Bethlehem, look upon the cross of Calvary, stand before His tomb of resurrection.

This, Jesus has done for you so the Holy Spirit might connect you with your Father in heaven, with your family of faith.


From a devotion originally written for "By the Way"



THE PRAYER: Heavenly Father, thank You for the life you have given us through the death and resurrection of Your Son, Jesus. Help us be connected and remain connected to You through Him who is our lifeline. In the Savior's Name. Amen.

In Christ I remain His servant and yours,

Today's Bible Readings: 1 Samuel 20-21 Psalms 34 Luke 21:20-38
To Download Devotion MP3 to your computer, right click here and select "Save Link As" or "Save Target As" or "Download Linked File As"