"Giving Thanks"
---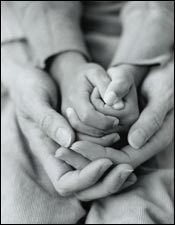 For in a severe test of affliction, their abundance of joy and their extreme poverty have overflowed in a wealth of generosity on their part. For they gave according to their means, as I can testify, and beyond their means, of their own free will, begging us earnestly for the favor of taking part in the relief of the saints. 2 Corinthians 8:2-4
The theme for today's devotion comes from Damien and Patty. We thank them for permission to share their story.

The Lutheran Hour Ministries' Response Center forwarded an interesting request from a family. It said, "We are quickly compiling a book of quotes about faith and hope." Then they asked me to contribute a few words.

Intrigued, I read further. Damien and Patty had been through a lot. Patty has stage-four cancer in her breast, spine, jaw, hips and ribs. They have four children with varying degrees of disabilities and their home was in foreclosure.

Damien shared this: "After our story was carried by a local newspaper and landed on strangers' doorsteps, they helped -- just regular people helping regular people."

The work performed by these Good Samaritans is impressive. Because of their knowledge and help, Damien and Patty may not lose their home; their youngest, Kevin, will get more help for his disabilities and Patty will be receiving assistance for her stage-four cancer issues.

Cool? You bet. But it gets better.

Damien and Patty wanted a quote from me and others so they could publish a book -- a book that would be used as a "thank you" to those special folks who helped them. One hundred percent of the subsequent sales of the book are earmarked to help others who are also in a sad situation.

I like that.

So often in the Daily Devotions we see the sorry and sinful underbelly of humanity. Here we see the Holy Spirit turning a family to the Lord in a special way. In spite of pains and problems that seem almost overwhelming, God is using those problems to ... well ... as Damien said it: "We are so very thankful."

Yes, God is helping Damien and Patty and their kids, but He is also providing opportunities for others to use their gifts to assist.

Now, I wouldn't tell this family's story if I didn't believe this story is, with minor variations, being relived all around us. There's hardly a church that doesn't have some of its members suffering problems of finance or health.

The question is this: what will we Christians do? Will we, in the Name of the Savior who gave everything He had to help us out of spiritual bankruptcy, make any sacrifice to help others?

I pray we do. I pray the Holy Spirit makes this story the first of many and that He will use this story to trigger Christian assistance in others for others.

And, just in case you're wondering, the quote I sent to Damien and Patty was this: "Hope is not being afraid when you step into the darkness because you have faith in the Savior whose light illuminates each step."

THE PRAYER: Dear Lord, today I pray for those who are enduring difficulties. May the Holy Spirit keep them from discouragement and deepen their faith in the Redeemer. Finally, when I am given the opportunity to help others, may I do so. This I ask in the Name of the Savior who always did what He could for me. Amen.

In Christ I remain His servant and yours,

Today's Bible Readings: Exodus 4-6 Matthew 24:29-51
To Download Devotion MP3 to your computer, right click here and select "Save Link As" or "Save Target As" or "Download Linked File As"