"Where Jesus Lives"
---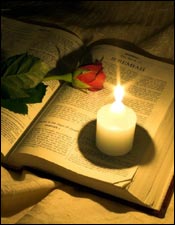 When Jesus spoke again to the people, he said, "I am the light of the world. Whoever follows Me will never walk in darkness, but will have the light of life." John 8:12
Jesus is the "light of the world."

In the last century, one small boy from Birmingham, England, heard his pastor speak about that very subject.

Unlike so many others his age, this boy didn't dismiss the concept; on the contrary, the lad took those words to heart. He heard them, thought about them, and he believed them.

After the worship service, as the pastor was greeting his congregation at the door, the boy said, "I'm thankful that Jesus is the light of the world; I sure wish He'd come and visit my street in the neighborhood where I live. It's awful dark out there."

Yesterday was the Church's celebration of Christmas. After centuries of waiting for the promised Messiah, in a small manger, in a small town, in a small country, that promise was fulfilled. Christ the Savior was born. Jesus, God's Son, came to earth. He came to our neighborhood.

Now it's possible your neighborhood is so dark you haven't seen Him yet. If that's the case, I assure you Jesus is there -- right on your block, right on your street.

No longer does humankind have to live in the dark; no longer do we have to live in fear of the unknown or what tomorrow will bring. No longer do we have to sit helpless and condemned by our transgressions, lost because of our sin.

Jesus has come to our neighborhood, and by the Holy Spirit's power, He has come to live in our hearts.

Yes, I know, the evening news still says there is a lot of dark in the world. That can't be denied. But the Bethlehem manger, Calvary's cross, the borrowed and empty tomb all say there is a light in the world, and where the light is present, darkness cannot remain.


From a devotion originally written for "By the Way"



THE PRAYER: Dear Lord Jesus, for leaving the glory of heaven to walk on this dark earth, You have my thanks and praise. As the angels said, "You are good news of great joy. You are my Savior, my future, my Forgiver, my Redeemer and Lord." Now may I reflect Your light to a world, which still stumbles in the dark. In Your Name. Amen.

In Christ I remain His servant and yours,

Today's Bible Readings: Nehemiah 4-6 Revelation 17
To Download Devotion MP3 to your computer, right click here and select "Save Link As" or "Save Target As" or "Download Linked File As"