"Seeing The Riches"
---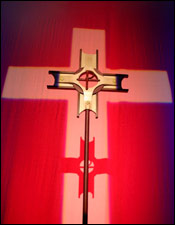 I pray also that the eyes of your heart may be enlightened in order that you may know the hope to which He has called you, the riches of His glorious inheritance in the saints, and His incomparably great power for us who believe. ... Ephesians 1:18-19a
A little, old lady who lived in Pinner, England, had passed away. Now it was up to her sister and nephew to dispose of the modest contents of her home. They picked an auctioneer whose specialty is disposing of estates, even small estates.

Apparently, they picked the right fellow.

A specialist at his auction house spotted an 18th-century Chinese porcelain vase and said it might be worth some money -- maybe as much as 1.2 million pounds.

To make a long story short, the specialist was wrong. The vase sold for 51.6 million pounds. For those of you who prefer your numbers in dollars, that's about $83 million.

Eighty-three million dollars ... and the deceased lady never knew. No doubt she treated that vase like any other piece of bric-a-brac. She probably filled it with flowers from the garden or put it on a shelf where the cat might knock it off.

She probably would have been amused if someone had suggested the sale of her old vase could keep her comfortably the rest of her life. But none of those things happened. The lady from Pinner, England, died without ever realizing what she had.

That kind of thing happens a lot, doesn't it?

No, not that I'm suggesting we all have an eighty-three-million-dollar Chinese vase. We don't.

But we do have a Savior who is infinitely more valuable to those who believe. The knowledge that God's Son came to earth and substituted Himself so our sins might be forgiven and our eternal destiny moved from hell to heaven ... well ... that's just even more unbelievable than having a vase worth $83 million.

Sadly, there are some folks who don't believe it. Maybe they don't think about it. Maybe they're putting off any consideration of their earthly end. Maybe they just hope somehow they're going to make it to heaven.

How sad to die without ever knowing what you had.

Today, won't you join with me in praying for them?

THE PRAYER: Dear Heavenly Father, I give thanks to You for sending Your Son to save me and the Holy Spirit to make me aware of what a blessing I have in the Savior. But there are many who do not know, who do not believe. If it be possible, let these lost souls know the blessings that are theirs in Jesus. In my Savior's Name. Amen.

In Christ I remain His servant and yours,

Today's Bible Readings: Ezekiel 22-23 1 Peter 1
To Download Devotion MP3 to your computer, right click here and select "Save Link As" or "Save Target As" or "Download Linked File As"