"The Lost Is Found"
---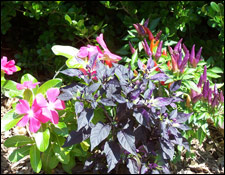 (Jesus said) "And when she has found it, she calls together her friends and neighbors, saying, 'Rejoice with me, for I have found the coin that I had lost.' Just so, I tell you, there is joy before the angels of God over one sinner who repents." Luke 15:9-10
Norma Welker had already said her earthly goodbyes to her husband.

Then, when she was gardening, she lost her wedding ring. She had taken the ring off while she was arranging some cut flowers from her garden. Then, having been interrupted by a phone call, she forgot to put it back on.

Only after her trash had been hauled away did she realize the ring's absence. She searched the compost pile, but there was no ring to be found.

Welker tried to console herself by saying, "It's just a ring." But she knew better, and you do too.

Eight years passed since Norma lost her ring. This past spring she gave up gardening and had grass planted where her flower and vegetable seeds had once been sown. After that she settled down and waited for the family gathering, which would mark her 80th birthday.

It was a wonderful day, filled with friends and family and memories and the occasional gift. Perhaps the best present of all came from her grandson, Nick. He presented her with a small package ... a package that held her long-lost wedding ring.

Nick had found the ring when he was tilling his Grandma's garden, getting it ready to be sodded. As Scripture (almost) says, "Grandma called her friends and neighbors together and said, 'Rejoice with me for the ring that I had lost has been found.'"

Grandma Welker's celebration gives each of us an insight into what it's like in heaven when a sinner repents.

So sinners might have salvation is why Jesus came into this world. It is why the Holy Spirit works in our hearts. It is why your church and all its ministries exist.

The question is does your church rejoice like the angels in heaven any time a soul is washed in baptism, every time a child is confirmed, every time a new member is brought in? If not, it's time. It's time to rejoice like the angels in heaven for the lost, who, by God's grace, have been found.

THE PRAYER: Dear Lord, when a sinner is brought to faith and saved, it is a big deal. So that sinners might be saved is why Your Son sacrificed Himself. May I, and the rest of my church, appreciate, applaud, and welcome every new soul who is brought into our family of faith. In Jesus' Name. Amen.

In Christ I remain His servant and yours,

Today's Bible Readings: Jeremiah 51, 30 Hebrews 7
To Download Devotion MP3 to your computer, right click here and select "Save Link As" or "Save Target As" or "Download Linked File As"