"God's Aim"
---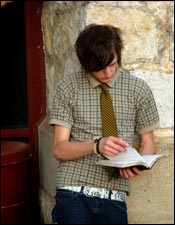 And He (Jesus) took the children in His arms, put His hands on them and blessed them. Mark 10:16
When I was in school, I was blessed to have a brilliant professor. (Actually, there were a lot of incredibly dedicated men who shared their knowledge with us.) The only problem is that we sometimes left his class a bit confused. It's not that his lectures weren't interesting. They were. It's just that we were hardly on the same level of knowledge he was. That situation left a lot of students slightly impatient with that senior educator. Many of us were secretly pleased when we overheard one of his colleagues talk to him about his time with us. The conversation, according to my faulty memory, went something like this: "That was a great lecture, professor, but don't you think it was a little over the students' heads?"

We were given a healthy dose of humility when we heard the professor's reply: "I aim my lectures where their heads ought to be."

In recent years I've heard a lot of criticism directed against God and the Church. People keep saying the doctrines are too old and out of date. They don't reach people the way they should. They need to be more realistic. To all that I can hear the Lord echo the words of my professor: "I aim my love where people ought to be and then I send My Holy Spirit to take them there."

In short, God -- our Creator and Redeemer -- is not going to cheapen His message of love. He's not going to modify it or change it to make it more palatable. In the Person of Jesus we have the Lord speaking to us in a way that even the smallest of children can understand. Jesus spoke. He lived in a way that even the smallest of children could plainly see that the Lord cared about us, wanted us to be sorry for our sins, and be given the Lord's forgiveness and salvation.

Yes, people may not want to hear that message. They may want to change it, but God is not about to change. His truth and His salvation are what they are and that is everything. So, today, to God I give glory, and to my professor, a belated "thank you!"


From a devotion originally written for "By the Way"



THE PRAYER: Thank You, Heavenly Father, for making us Your children through the Savior's life, suffering, death, and third day resurrection. Even though we cannot fully understand why You have saved us, help us to appreciate Your act of love. This we pray in Jesus' Name. Amen.

In Christ I remain His servant and yours,

Today's Bible Readings: 1 Chronicles 20-22 1 Corinthians 14:1-20
To Download Devotion MP3 to your computer, right click here and select "Save Link As" or "Save Target As" or "Download Linked File As"