"Not Of This World"
---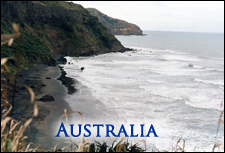 Set your minds on things above, not on earthly things. Colossians 3:2
Dear Brothers and Sisters in Christ:

The salvation story of Jesus Christ reaches around the world. So that the readers of our Daily Devotion may see the power of the Savior on a global scale, we have asked the volunteers of our International Ministry Centers to write our Friday devotions. We pray that the Spirit may touch your day through their words.

In Christ, I remain, His servant and yours,
Kenneth R. Klaus
Speaker of The Lutheran Hour



If it's true peace and contentment we're after, this world is not the place to find it.

Though the media blitzes us with fantasy stories of people who seem to have it all together, underlying the supposed perfection of these lives we often find a disintegrating foundation of despair, heartbreak, ruin, and the myriad other woes common to man. And even for the lucky few who seem to make it from start to finish in this life with nary a care, their end is the same shared by us all: death and the grave.

Since this is the case, peace and contentment will always be elusive in this world. Why? The answer is plain and applies to everyone: nothing on earth can satisfy our deepest yearning. As long as we try to find ultimate and lasting satisfaction through this world we will be forever disappointed: "earthly things" simply will not suffice.

The "things above" that the apostle Paul refers to, however, are not of this world. Through faith we believe God sent His Son, Jesus Christ, in a supreme act of love on our behalf. As we get to know Jesus by reading about Him in the Bible, we get to know God, the Father. For the risen Lord has clearly stated, "I am the Way and the Truth and the Life. No one comes to the Father except through Me" (John 14:6).

It is in Jesus alone that peace and contentment begin and end. It is in Jesus our minds are renewed and are able -- through the transforming power of God's Holy Spirit -- to seek the things above, not on earth.

"Since then, you have been raised with Christ, set your hearts of things above where Christ is seated at the right hand of God" (Colossians 3:1).

What a joy to know there is more to life than what this world has to offer.

THE PRAYER: Heavenly Father, renew us through the power of Your Holy Spirit to fix our minds on those things that are not of this world. Teach us to search the truth of Your Word for the peace and contentment only You can provide. In the Name of Jesus, we pray. Amen.

Biography of Author: This devotion is based on a text written by Pastor Mark Doecke from Australia. In that country Lutheran Hour Ministries works with Lutheran Media Ministry as a partner in sharing the Gospel over television, radio and, more recently, the Internet. Also available through LMM are Project Connect booklets dealing with topics such as family and relationships, forgiveness, and financial matters.


To learn more about our International Ministries, click here or visit www.lhmint.org.

Today's Bible Readings: Psalms 87-88 1 Corinthians 12
To Download Devotion MP3 to your computer, right click here and select "Save Link As" or "Save Target As" or "Download Linked File As"