"Cunning Craftiness"
---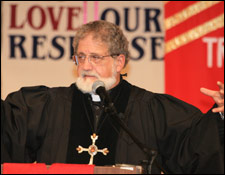 He thwarts the plans of the crafty, so that their hands achieve no success. Job 5:12
The Marines who are trying to bring hope and peace to Afghanistan's southern Helmand province are amazed.

They are amazed at how the Taliban troops there are changing their style of fighting. No longer do they try to go head to head with some of America's best.

They just wait, and then they spring their traps.

They just plan, and then they detonate their hidden bombs.

Assessing the enemy and what he has encountered, one Marine observed that "Guys that uneducated shouldn't be so smart, but they've sure got some slick tactics."

I guess that's an honest assessment. It's honest when it comes to the Taliban, and it's honest when it comes to describing the devil.

The old, evil foe that Luther wrote about in his hymn is a pretty crafty fellow. Using some of the oldest tricks in the book, he plots, he plans, he waits, and then he acts. He is incredibly devious and unbelievably patient in springing his special temptations, which he has designed to bring us down and destroy our souls.

Thankfully, we Christians are not unarmed in our fight against such evil.

We have a Savior who is constantly by our side; we have the Holy Spirit who provides us with wisdom and strength beyond what we normally might possess; we have the Word of God, which outlines the devil's cunning and tells us how we can defeat him.

By God's grace we are armed to enter each day's battle. By God's power we will emerge at the end of that day victorious.

True, we may get bloodied, and we may get scarred, but we can be winners. Paul said it best in the book of Romans: "No, in all these things we are more than conquerors through Him who loved us" (Romans 8:37).

THE PRAYER: Dear Lord Jesus, our enemy, Satan, is a cunning and resourceful foe. Keep us ever mindful of the fact that in You we have been given an ally who wins battles and saves souls. Now, I pray that You will use me in this battle. Let others see what You have done for me in the way I live my life. In Your Name. Amen.

In Christ I remain His servant and yours,

Today's Bible Readings: Amos 7-9 Galatians 2
To Download Devotion MP3 to your computer, right click here and select "Save Link As" or "Save Target As" or "Download Linked File As"