"Watch Your Step"
---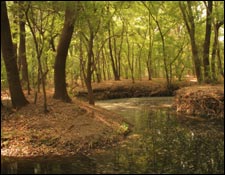 For Thou hast delivered my soul from death, mine eyes from tears, and my feet from falling. I will walk before the LORD in the land of the living. Psalm 116:8-9
Here today, gone tomorrow.

That's an expression many of us agree with. It's a shorthand way of saying that nothing in life is permanent. Certainly, the folks in Bosnia-Herzegovina understand that. They understand it because recently floods displaced thousands from their homes even as it washed away crops, bridges, and mines.

Yes, you heard that right -- mines. No, not the kind of mine from which a person might bring forth coal, or gems, or precious metals. These are the kind of mines you step on and the explosion kills or maims you.

At the end of the country's conflicts in 1995 it was estimated there were over 1 million landmines scattered around the nation. Since that year, the country has been trying to locate those mines and get rid of them. It is a daunting task, especially when some of the estimated 250,000 unfound mines keep disappearing.

Boro Kosarc, leader of one of Bosnia's de-mining companies, shares this: "Once we were asked to clear a minefield near the Sava River in the north and when we got there, 6,000 square meters (1.5 acres) of the marked area was missing. An entire river bank was gone together with the mines."

Actually, those mines weren't gone, they were just somewhere else.

All in all, those mines remind me of Satan's temptations.

We work, we struggle, and we strive to get rid of the devil's temptations to sin. As Christians we know that those temptations can be dangerous. As committed followers of the Christ we do all we can to de-mine our lives of those temptations.

Sadly, just when we start to feel a certain sense of security, those temptations get moved; they show up somewhere else.

This is exactly why the words of the Psalmist are important to us. He says, "For thou hast delivered my soul from death, mine eyes from tears, and my feet from falling. I will walk before the LORD in the land of the living."

The Psalmist knows that in Jesus Christ the ultimate victory over sin, death, and the devil is ours. Jesus has through His sacrificial life, death, and glorious resurrection delivered our souls, dried our tears, and kept us alive -- alive in this world as well as in the next.

THE PRAYER: Dear Lord Jesus, the world is a minefield filled with dangers. I give thanks that through You, I am being brought through those mines. I rejoice that You are with me and will lead me, so I may always walk before You in the land of the living. In Your Name. Amen.

In Christ I remain His servant and yours,

Today's Bible Readings: 2 Kings 4-6 James 2
To Download Devotion MP3 to your computer, right click here and select "Save Link As" or "Save Target As" or "Download Linked File As"