"Freedom To Eat"
---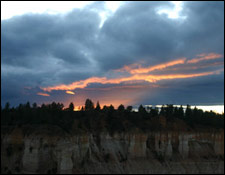 It is for freedom that Christ has set us free. Stand firm, then, and do not let yourselves be burdened again by a yoke of slavery. Galatians 5:1
There is little chance that most of the Daily Devotion readers are going to eat a meal at the 30-seat Sydney, Australia restaurant: WAFU.

That may be a good thing.

You see, WAFU's chef, Yukako Ichikawa, has instituted a set of rules which make the restaurant rather unique.

"What kind of rules?" do I hear you ask?

How about rules like this:

• You get a 30 percent discount on your meal if you eat all the food on your plate.

• If you don't eat all the food, with the exception of lemon slices, sushi ginger, and wasabi, the wait staff will tell you to choose another restaurant the next time you're hungry.

• You must eat all your vegetables. WAFU's rules say: ". . . vegetables and salad on the side are not decorations; they are part of the meal, too."

So far, I haven't heard if there is a waiting line to get into WAFU.

Now it's highly unlikely St. Paul was thinking about the rules at WAFU restaurant when he wrote to the church in Galatia. Even so, St. Paul wanted to make sure God's people didn't get caught up in man-made laws.

Please understand that Paul had a high regard for -- and was faithful in -- enforcing the Lord's Ten Commandments. It was man-made rules that caused problems for him and the church in every generation.

You know the kind of rules I'm talking about. They are the kind of rules the Pharisees had unilaterally placed on God's people. They are the kind of rules which keep people away from the Church because they think Christianity can be summed up with the words, "thou shalt not." They are the kind of rules based on tradition and not the Lord's commands. They are the kind of rules from which the Savior's sacrifice has freed us.

It's true. We are freed. Jesus' sacrifice has eliminated the Law's condemnation. We are freed. Not free to sin (Romans 6:1-2), but we are free to glorify God for His great gift of grace as it has been given to us in Jesus.

THE PRAYER: Dear Lord and Savior. Although I cannot fulfill the Law, it sometimes seems easier to live in a world where I'm told just what I can and cannot do. Help me love the freedom of Jesus. Help me love it and live as if it were a precious gift of grace. In Your Name. Amen.

In Christ I remain His servant and yours,

Today's Bible Readings: Song 4-5 Acts 7:1-21
To Download Devotion MP3 to your computer, right click here and select "Save Link As" or "Save Target As" or "Download Linked File As"