"Free Indeed"
---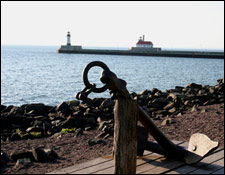 So if the Son sets you free, you will be free indeed. John 8:36
The following devotion was submitted to me through Mr. Ian Adnams, Director of Communication for Lutheran Church-Canada. It was written by Peggy Pedersen of Victoria, British Columbia. It has been printed with only minor editorial changes.

In Texas, June 19th is a holiday called Juneteenth. In many places the date is also referred to as Emancipation Day or Freedom Day. The day is a reminder that on June 19, 1865, the slaves in Texas learned of their emancipation. Union soldiers, led by Major General Gordon Granger, landed at Galveston, Texas, with news the war had ended and that the slaves were now free.

Understand, the war was already over and it had been three years since the Emancipation Proclamation had been signed by President Lincoln.

Unbelievably, these people had remained in the bondage of slavery until they heard the major general's message. Understandably, with the hearing of the good news, a great many of them believed, rejoiced, and began to live in their newly given freedom.

Sadly, there were those who refused the news and chose to remain with their old masters. How sad it must be for someone to be free and still live in slavery.

Still, this is exactly the situation for most of humankind. We all have been born into slavery, the slavery of sin. There we remain until the Holy Spirit touches us through the proclamation of freedom and forgiveness won by Jesus Christ. Most, indeed, I pray all, of the Daily Devotion readers have experienced this freedom.

Sadly, we know there are many who still are enslaved by sin and Satan. There are those who have not heard the Good News; others who have refused to believe, and there are some who prefer to remain with their old masters.

It is these people to whom we must speak.

We must let them know God's forgiveness does not depend on their worthiness, even as the Emancipation Proclamation was not won by the slaves who were freed. Still, the freedom is real. The Emancipation Proclamation was real because the power of the government was behind it. Our soul's emancipation is real because the blood of Jesus Christ has made it so.

This is why, especially on Juneteenth, we remember that Jesus has given us the commission to go into the entire world and tell others the Good News. He wants us to say He has won the struggle for our freedom; He has overcome our enemies of sin and death.

In Christ, we are set free to live forever as forgiven friends of God and not as Satan's slaves.


From a devotion originally written for "By the Way"



THE PRAYER: Dear Heavenly Father, thank You for Your great love that sent Your Son to pay the price of our redemption from sin, Satan, and death. Thank you for Your Word which declares us forgiven and free. Help us live in this blood-bought freedom as responsible servants of the Savior. This we ask in the Name of Jesus whose story of salvation we share. Amen.

In Christ I remain His servant and yours,

Today's Bible Readings: Proverbs 25-26 Acts 4:23-37
To Download Devotion MP3 to your computer, right click here and select "Save Link As" or "Save Target As" or "Download Linked File As"