"Inside And Out"
---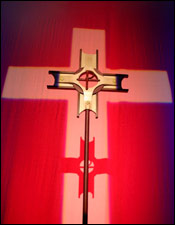 For You formed my inward parts; You knitted me together in my mother's womb. I praise You, for I am fearfully and wonderfully made. Wonderful are Your works; my soul knows it very well. My frame was not hidden from You, when I was being made in secret. Psalm 139:13-15a
Fast-food places with drive-up windows are nothing new.

Most of us are used to other businesses with drive-through windows. You can get your coffee at a drive-up window; you can have your prescriptions filled at a drive-up window; you can drop off your laundry or pick up your groceries at a drive-up window.

Apparently, there is almost no limit to the things you can do at a drive-up window.

Maybe I ought to scratch the word "almost" in the previous sentence. That's because an Orland Park, Illinois doctor is now trying to convert a restaurant into a medical office -- a medical office with drive-up windows for patients.

There can be little doubt this physician is a far greater visionary than I am. When I think of a drive-up window for a physical, I shudder. Other than the part where the doctor says, "Open up your mouth wide and say aaahhh," there aren't too many parts of my exam I want done at a drive-up window.

An exam is too personal and a drive-up window is far too impersonal. I want the MD I'm seeing to know me.

Of course, no physician can know us like God knows us. As the Psalmist indicates in Psalm 139, God knew us before we were ever born. The wonderful thing is this: even though God knows us inside and out and He is fully aware of our sinful condition . . . He still loves us.

In spite of our transgressions, in spite of our lostness, He continues to love every sinful man, every sinful woman, every sinful child. So sinful humanity might be loved and be saved, the Father in heaven sent His Son to become our sacrifice.

In Jesus, the Perfect One was condemned in the place of the imperfect; the Holy One died for the sinful, the Son of God was crucified so condemned humanity might be pardoned and adopted as children of God.

That's the way I would like to be known: as a child of God.

THE PRAYER: Dear Lord, before I was ever born You knew me and loved me. In spite of knowing about my sinful condition that condemned me, You sent Your Son to rescue me and all sinners. If it be possible, let those who still don't know, be brought to faith. In Jesus' Name. Amen.

In Christ I remain His servant and yours,

Today's Bible Readings: Joshua 7-9 Luke 9:37-62
To Download Devotion MP3 to your computer, right click here and select "Save Link As" or "Save Target As" or "Download Linked File As"