"Which Way?"
---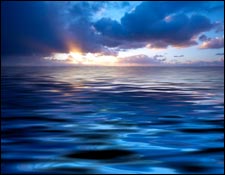 (Jesus said) "Then shall they see the Son of Man coming in a cloud with power and great glory. And when these things begin to come to pass, then look up, and lift up your heads; for your redemption draweth nigh." Luke 21:27-28
There are stories and there are stories.

I don't know which of those categories this news article fits into.

The story comes out of the Netherlands. Now from all the Netherlandians I've met, they are, quite generally, very level-headed people -- generally, but not always. According to Radio Netherlands, a fairly large percentage of the people in that country expect the world to end in 2012.

You remember the Mayan calendar prediction?

When I read that, I thought, "That's a little bit strange." And so it was. But it got stranger. The story says, "Many are taking precautions to prepare for the apocalypse." That's right, the people were stocking up on emergency supplies, life rafts, and other equipment.

And then it really got weird. The story said, "Some who spoke to the newspaper were optimistic about the end of civilization."

So, let's recap. The folks from the Netherlands are believing the end-of-the-world predictions of the ancient Mayans. Then, having heard about the end of the world, they think they can survive it by going out and purchasing a rubber life raft.

I guess their end of the world is different than my end of the world. A person can't paddle his way out of the end of the world Jesus talks about, and he can't lay in enough supplies to survive Jesus' Judgment Day return.

Speaking of Jesus . . . don't you think it might be wiser to put your faith in God's Son who gave His life so our lives might be saved? Don't you think it would be wiser to trust Him rather than a government surplus raft?

When Jesus talked about the end times, He indicated that when a lot of bad stuff happens and you look up and see Him coming don't be like the world. Don't be afraid. For He's coming to take you home. Don't be afraid because He is your Redeemer who has saved you from sin, death, and devil.

In short, if we're going to survive, it will not be on account of the things we've done or the supplies we've laid in. We will survive because of the gracious salvation Jesus has won with His suffering --

-- the suffering we remember this week.

THE PRAYER: Dear Lord, help us realize our salvation is dependent on Your sacrifice, not our provisions. Help us, where we can, to share salvation's story with those who are lost or ignorant. In Your Name. Amen.

In Christ I remain His servant and yours,

Today's Bible Readings: Deuteronomy 17-19 Luke 5:17-39
To Download Devotion MP3 to your computer, right click here and select "Save Link As" or "Save Target As" or "Download Linked File As"