"Our Builder"
---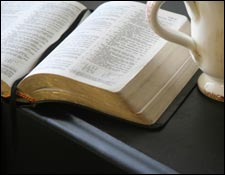 For by Him all things were created, in heaven and on earth, visible and invisible. . . . Colossians 1:16a
Here's a true story from years ago.

No matter how much the man cranked, no matter how far he advanced the spark or made adjustments, the stalled Model-T Ford just wouldn't start.

When the man reached his frustration point, a chauffeured limousine pulled up behind him. A thin man stepped out and offered his assistance. After tinkering for a few moments the stranger said, "Now try it!" The engine turned over. The well-dressed mechanic identified himself as Henry Ford. "I designed these cars," he said, "so I know what to do when something goes wrong."

When I go to the bookstore, I am amazed at the number of books on the racks telling us how to get our lives running again.

There are self-help books for married couples, singles, babies, teens, and the elderly. There are books that give direction on computers, income tax, and painting.

Many of them carry the label "best-seller" on their covers. Maybe these books work. Maybe they don't.

But I do know one that does. That is the Book, which is the best of best-sellers. It is always reliable when your life has stalled. That's why, today, I encourage you to listen to God, who is our Designer, our Redeemer, and our Preserver.

He, more than anyone else, can say what is wrong and how it can be made right.
Even more, He is the One who, all on His own, can make it right and keep it right. This He has done through the life, death, resurrection, and intercession of Jesus.


From a devotion originally written for "By the Way"



THE PRAYER: Dear Heavenly Father, from before my birth till now You have been with me, loving me, watching over me. Forgive my ingratitude. At the same time enable me to always look to you for direction and help. In the Name of Jesus who is my best help. Amen.

In Christ I remain His servant and yours,

Today's Bible Readings: Numbers 9-11 Mark 14:1-26
To Download Devotion MP3 to your computer, right click here and select "Save Link As" or "Save Target As" or "Download Linked File As"