"From Babel To Bangkok"
---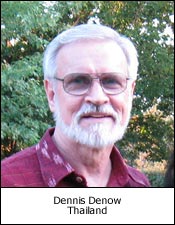 Who will not fear You, O Lord, and bring glory to Your Name? For You alone are holy. All nations will come and worship before You, for Your righteous acts have been revealed. Revelation 15:4
Dear Brothers and Sisters in Christ:

The salvation story of Jesus Christ reaches around the world. So that the readers of our Daily Devotion may see the power of the Savior on a global scale, we have asked the volunteers of our International Ministry Centers to write our Friday devotions. We pray that the Spirit may touch your day through their words.

In Christ, I remain, His servant and yours,
Kenneth R. Klaus
Speaker of The Lutheran Hour



Short-term volunteer teams to Asia often tell us a highlight of their mission experience is worshiping with local Christians. "It's enjoyable and uplifting to be worshiping with believers from another country and culture half a world away from our own," they say. This experience is a small glimpse into what John wrote about in Revelation: "All nations will come and worship before You. . . ."

Christians joining together to worship in spite of language differences is a stark contrast to the Tower of Babel narrative in Genesis 11. At that time the people's unity was disrupted when God confused their language. They could no longer understand each other, so they couldn't work together.

When a group of Lutheran pastors and their wives visited Bangkok to conduct a seminar for local Christians, communication was difficult. The visitors didn't speak Thai, and most of the Thai people spoke little to no English. At times their efforts to converse were comical. Lots of gestures, strange facial expressions, long pauses, and bemused smiles resulted from the attempts to bridge the language barrier. Work was accomplished, but there were some awkward and embarrassing moments in the process.

But when it came to worshipping together, an interesting thing happened.

When the visiting team attended local churches and worshiped with Thai Christians, they felt a bond. Though the words were different, the melody was the same. The natural dissonance of mixing the two languages actually created another kind of harmony as God's people raised their hearts and voices in praise to Him. At Babel, "the Lord scattered them (the people) from there over all the earth . . ." by confusing their language, according to Genesis 11:8a. In Bangkok, the Lord brought people together from opposites sides of the earth and gave them unity through the power of His Holy Spirit. In spite of the language and cultural dissimilarities, the mission team and the local Thai Christians were keenly aware of their oneness in Christ.

How great it will be when all nations come and worship before the throne of God in heaven! There will be no strangers there. Then, God's people the world over will raise their voices in a resounding chorus of praise to God for the wonderful salvation provided through His Son Jesus Christ.

THE PRAYER: Thank You, Father, that Your people throughout the world are one in Christ and that someday we will all worship together before Your throne of grace. Please send Your Holy Spirit to open the hearts and minds of those who do not yet know You, so they may come to know Jesus as their Savior and join in the heavenly worship. Amen.

Biography of Author: Dennis Denow is a missionary with the Lutheran Church-Missouri Synod World Mission and the husband of Monta Ekwanit Denow, director for Journey Into Light (JIL), the ministry center for Lutheran Hour Ministries in Bangkok, Thailand. Using Equipping the Saints (ETS), Bible Correspondence Courses (BCC), print, Internet and text messaging, booklets, tracts, and coloring books, JIL shares the Gospel in this country of 65 million.


To learn more about our International Ministries, click here or visit www.lhmint.org.

Today's Bible Readings: Genesis 29-30 Matthew 19
To Download Devotion MP3 to your computer, right click here and select "Save Link As" or "Save Target As" or "Download Linked File As"