"Peace Prize"
---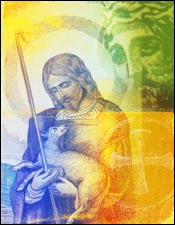 For to us a child is born, to us a son is given; and the government shall be upon His shoulder, and His name shall be called Wonderful Counselor, Mighty God, Everlasting Father, Prince of Peace. Isaiah 9:6
The list of names is an impressive one.

Let's see, there's the U.S. General George Marshall, and the organist-doctor from Africa, Albert Schweitzer. The Quakers are there as an organization, and John Raleigh Mott, chairman of the YMCA was not forgotten. Teddy Roosevelt would have been pleased to see his name wasn't left off the role call. Yes, Teddy is there, as is Jean Dunant, the founder of the Red Cross.

Now President Obama has had his name inscribed with the others who have also won the Nobel Peace Prize.

The reaction to that news has been mixed.

There are those who say, "He doesn't deserve it," and others who reply, "Not yet."

As far as I'm concerned, the only important part of that news story is this: it pointed me back to the passage from Isaiah, the one that serves as our text for today's Daily Devotion.

Centuries before the Christ's birth in Bethlehem, Isaiah prophesied Jesus would be the heaven-sent Wonderful Counselor, Mighty God, Everlasting Father, and the Prince of Peace.

That's the part I want to zero in on: Jesus is the Prince of Peace -- the only Prince of Peace.

Truly, the Savior is unique. While these other individuals and organizations may dedicate their lives trying to bring about world peace, the results of their efforts have not proven to be successful in the long term.

On the other hand, the peace that comes to sinners through faith in Jesus' life, suffering, sacrifice, death, and resurrection is unique.

The forgiveness the Christ gives to troubled minds, the contentment He brings to hurting hearts is permanent, complete, and it is total.

And no other person on that list of Peace Prize winners -- not even the greatest -- will ever be able to lay claim to that prize. Jesus is -- and will always remain -- the one, the only, the divine Prince of Peace.

THE PRAYER: Dear Lord Jesus, Isaiah prophesied Your sacrifice would result in peace of mind, heart, and soul for all who believe. When You rose from the dead, You bestowed peace upon Your fearful disciples. For Your great gift of grace I give thanks. Now may You send Your Spirit as a powerful force that will touch lost souls. Grant them faith, forgiveness, and permanent peace. In Your Name. Amen.

In Christ I remain His servant and yours,

Today's Bible Readings: Jeremiah 6, 11-12 Acts 27:27-44
To Download Devotion MP3 to your computer, right click here and select "Save Link As" or "Save Target As" or "Download Linked File As"