"Greatness"
---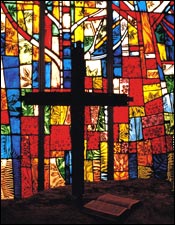 He will be great and will be called the Son of the Most High. . . . Luke 1:32a
NOTE: PASTOR KLAUS IS ON JURY DUTY THIS WEEK, SO THESE DEVOTIONS WERE WRITTEN BEFORE HIS TIME OF SERVICE. PLEASE EXCUSE THE FACT THAT THEY MAY NOT BE BASED ON CURRENT OR NEWSWORTHY EVENTS.

By now most of you have heard of the 19-pound, 2-ounce baby who was born in Jakarta, Indonesia.

Although his size didn't establish a world record, he was, at birth, quite a handful.

· The doctor who officiated said the baby's size made the caesarean delivery difficult.

· One of the people ministering to the baby said: "He's got a strong appetite; it's almost non-stop feeding."

· Another person commented, "This baby boy is extraordinary; the way he's crying is not like a usual baby. It's really loud."

Radio and TV talk shows, comedians, Internet commentators, and Web blogs have all had a field day with this child. When hosts from NBC's Today Show began making jokes about the oversized baby, Ann Curry went the opposite direction. She noted the oversized child might be a special gift to his mother.

Listening to the variety of comments about this baby reminded me of the diversity of opinions which were voiced when Jesus was born. The angel Gabriel said Jesus would be "great" and Mary knew He would change the world. The night Jesus was born, the shepherds went to see the Savior and, later, the Magi looked for the King of the Jews. But when Herod thought of Jesus, he could only see some kingly competition for his throne.

Looking at Jesus, Simeon, by the Holy Spirit's power, rightly commented the newborn Child was the Lord's salvation that God had "prepared in the presence of all peoples" (Luke 2:31b).

Two thousand years later, things haven't changed. People still have differing opinions about who Jesus was, about what He did, and as to what His importance is. It will be that way until the end.

As for me and my house, we will continue to look into the Bethlehem manger, stand before Calvary's cross, and run to the empty tomb. Then, having seen, we will know and share this truth: Jesus is God's crucified and risen Son; He is humanity's substitute and Savior.

No matter what the opinions of others, that is who Jesus was; that is who Jesus is for all who see Him with eyes of faith.

THE PRAYER: Dear Lord Jesus, I will never understand the grace that brought You into this world. Even without understanding, I give thanks for the forgiveness -- and the salvation You have given to me. Now, may others be granted the ability to see You with eyes of faith. In Your Name. Amen.

Lutheran Hour Ministries and the Lutheran Women's Missionary League are conducting two women's ministry surveys, one for pastors and one for women. To take one of the surveys--click here!

In Christ I remain His servant and yours,

Today's Bible Readings: Hosea 1-4 Romans 14
To Download Devotion MP3 to your computer, right click here and select "Save Link As" or "Save Target As" or "Download Linked File As"