"We Have An Answer"
---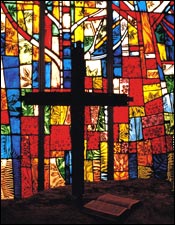 What father among you, if his son asks for a fish, will instead of a fish give him a serpent; or if he asks for an egg, will give him a scorpion? If you then, who are evil, know how to give good gifts to your children, how much more will the heavenly Father give the Holy Spirit to those who ask Him!" Luke 11:11-13 -
The questions asked above by the Savior really shouldn't call for an answer.

After all, everyone knows no father would give his son a snake instead of a fish for his supper. Obviously, no dad would substitute a scorpion for a hard-boiled egg.

Obviously?

After reading a story carried by the Associated Press on July 22nd, I'm not sure the answers to Jesus' questions are all that evident.

In case you didn't hear about the event, let me share the high points. Last week, some Goodwill workers in Denver went to a strip mall to collect the gifts that kind-hearted supporters had placed in a large donation box.

That's not unusual. What makes that day stand out was the rectangular, olive-green box which they came across. It was a small box imprinted with the words, "FRONT TOWARD ENEMY."

With their suspicions aroused, the workers called the police, and the police correctly identified the box as being an old Claymore land mine. That's the kind of weapon that can murder and maim a lot of innocent people. The mall was quickly evacuated and the bomb was diffused.

So, we have an answer to Jesus' question. What kind of man would give his son a scorpion? It's probably the same kind of person who would give a land mine to Goodwill.

Truly, there is a great deal of evil in the world.

This is why we need a great deal of love and grace. Thankfully, we are given both by our Savior who sacrificed His entire life so that all who believe on Him might be forgiven, granted eternity, and blessed with an abundant life right now.

When we look upon the manger, the cross, the empty tomb, we know that evil -- no matter how many weapons it has -- will never have the final victory.

THE PRAYER: Dear Lord Jesus, in a world where no act of terrorism seems unthinkable, I give thanks for Your goodness and grace. Through You I have been given the final victory over sin, death, and Satan. May I, wherever possible, reflect that love into the world's darkness. In Your Name. Amen.


In Christ I remain His servant and yours,

Today's Bible Readings: Psalms 130-132 1 Corinthians 1
To Download Devotion MP3 to your computer, right click here and select "Save Link As" or "Save Target As" or "Download Linked File As"