"Finding The Lost "
---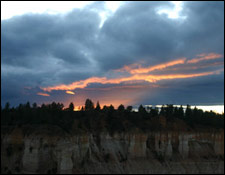 Or what woman, having ten silver coins, if she loses one coin, does not light a lamp and sweep the house and seek diligently until she finds it? And when she has found it, she calls together her friends and neighbors, saying, "Rejoice with me, for I have found the coin that I had lost." Just so, I tell you, there is joy before the angels of God over one sinner who repents. Luke 15:8-10
Annat loves her mother. That is as it should be.

To express that love, Annat got up early on a Sunday morning so she might get a good deal on a mattress. It was to be a surprise gift for her mother.

By the end of the day, the deal was done. Annat had purchased the mattress, taken it to her mother's home, lugged it up the stairs, and disposed of the old, lumpy mattress.

It was a beautiful thing to do. It was a gracious gesture marred only by one very small problem. For years Annat's mother had used the old mattress as a bank for her cash -- all her cash.

About a million dollars' worth of cash, which is now, somewhere, in the city dump.

And, yes, the ladies, along with volunteers at the dump, have done some serious searching for that mattress. I imagine, like the lady in Jesus' parable, they will keep searching until they find that which was lost.

This takes us to the point of today's devotion. That point, of course, is not about missing mattresses, lost millions, or a misplaced silver coin.

Today, we think about sinners who are spiritually lost and need to be found.

More specifically, we are thinking about your sinner. No, not you, but someone who is close to you, someone whom you love dearly, someone who feels -- for whatever reason -- he, or she, doesn't need the Savior.

What I'm proposing is this: let's take the tens of thousands of people who read these devotions and bring them together in prayer. Let's unite all of our hearts and all of our prayers and bring these lost, our lost, to the Lord.

So, in the prayer that follows, please substitute the name of your lost coin, your missing mattress, your loved one who is gone. Spend an extra moment thinking of that person and know thousands upon thousands of others are doing the same.

THE PRAYER: Dear Lord Jesus, You came into this world to give Your life to save sinners. Right now I bring before You __________ who is dear to me. He is lost and needs to be found. Today, with my fellow believers I ask the Holy Spirit to touch that lost heart so I may join with angels in heaven, rejoicing that the lost has been found. In Your Name. Amen.


In Christ I remain His servant and yours,

Today's Bible Readings: Song 1-3 Acts 6
To Download Devotion MP3 to your computer, right click here and select "Save Link As" or "Save Target As" or "Download Linked File As"