"Savor "
---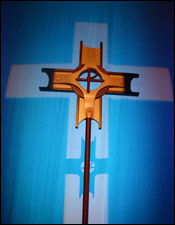 Do not labor for the food that perishes, but for the food that endures to eternal life, which the Son of Man will give to you. For on Him God the Father has set His seal. John 6:27
It's Saturday, and I'm ready to fire up the grill.

I can see it now: a Texas-sized T-bone steak, baked potatoes, peas, iced tea with a slice of lemon, and apple pie with a scoop of vanilla ice cream. It looks good, and it's going to taste great.

But imagine that meal a different way.

Take the steak, the peas, the potatoes, and the cherry pie, and put them all together with the iced tea in a food processor. Let the processor run for a few minutes, and then heat up the brown, gooey mess in a flying pan on the stove.

The meals are equally nourishing, but hardly equally appetizing.

Now let's take that idea and apply it to worship.

It's Saturday, and I'm looking forward to going to church tomorrow. I'm looking forward to going into that beautiful building and sitting down in the Lord's house. I can see the people dressed in their best in honor of the Lord's love as shown in the Savior's sacrifice and victory, which saves us. I anticipate the majestic chords of the organ, the glory of the hymns, and hearing my pastor preach about my Savior.

That's the way to go to church -- ready to savor God's presentation of love.

Of course, there are other ways you can go to worship. You can take the entire worship experience, and try to figure out how to get in and out as fast as possible -- no eye contact, no friendliness, no commitment, no singing, no praying.

What God is giving is the same, but, well, you can figure out the rest.

THE PRAYER: Dear Lord, You have blessed me with spiritual nourishment. Let me give sincere thanks for that food which fills my soul. Grant me grace to worship You, my Savior and the Holy Spirit's power. May my worship experience be a blessing to me and those around me. In Jesus' Name. Amen.


In Christ I remain His servant and yours,

Today's Bible Readings: Proverbs 8-9 John 21
To Download Devotion MP3 to your computer, right click here and select "Save Link As" or "Save Target As" or "Download Linked File As"