"The Truth Will Set You Free"
---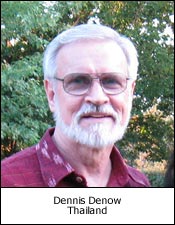 To the Jews who had believed Him, Jesus said, "If you hold to My teaching, you are really My disciples. Then you will know the truth, and the truth will set you free. John 8:31-32
Dear Brothers and Sisters in Christ:

The salvation story of Jesus Christ reaches around the world. So that the readers of our Daily Devotion may see the power of the Savior on a global scale, we have asked the volunteers of our International Ministry Centers to write our Friday devotions. We pray that the Spirit may touch your day through their words.

In Christ, I remain, His servant and yours,
Kenneth R. Klaus
Speaker of The Lutheran Hour



"What was your life like when you were a Buddhist, before you became a Christian?" I asked the old lady sitting in front of me.

For a moment Khun Sa didn't respond. Then she said, "That was the old way. I don't follow that way anymore. I don't want to think about that or talk about that. Now I know the truth; I have a new way. Now I'm free from making sacrifices and giving offerings to the spirits and to my ancestors. Now I'm free from worrying if I've been good enough to offset the bad things I do. Yes, now I have a new way - - a much better way. Now I'm free."

Just like Khun Sa before she became a Christian, many people feel pressure to do good things every day. They feel compelled to work hard to be a good person, so their next life will be better than this one. But peace -- true peace -- is elusive. Why? Because Buddhists can never be sure they've done enough good to merit the reward of a better life. They always worry their bad deeds will outweigh their good deeds.

The Bible tells us we can never do enough good to earn God's favor or eternal life in heaven. It doesn't matter how hard we try or how good we are. We can never remove the horrific stain of sin upon our lives. The good news, however, is God loves mankind so much He provides a better way. He sent His son, Jesus, to achieve our reward for us. When Jesus died on the cross, His blood washed away every last one of our sins. Through faith in Jesus, God gives eternal life in heaven as His free gift.

Khun Sa learned the truth and the truth set her free. Her worry and stress were replaced with joy and peace. As a believer in reincarnation, Khun Sa wanted her next life on this earth to be better than this life. As a consequence, she had been working hard to be good enough to deserve a better life after she died. To her joyful surprise, her better life started in this life, with her relationship with Jesus.

THE PRAYER: Dear Jesus, thank You for paying the price for our sins and providing the free gift of eternal life. Send Your Holy Spirit to people who don't know You. Reveal to them the truth and set them free. Amen.


Biography of Author: Dennis Denow is a missionary with LCMS World Mission and the husband of Monta Ekwanit Denow, director for Journey Into Light, the ministry center for Lutheran Hour Ministries located in Bangkok, Thailand. There, LHM ministers through community radio, Equipping the Saints (ETS), Bible Correspondence Courses (BCC), print, Internet and Gospel text messaging. The staff also conducts numerous children's activities and makes presentations in government schools.




To learn more about our International Ministries, click here or visit www.lhmint.org.

Today's Bible Readings: Psalms 7-8 John 7:28-53
To Download Devotion MP3 to your computer, right click here and select "Save Link As" or "Save Target As" or "Download Linked File As"