"How About You?"
---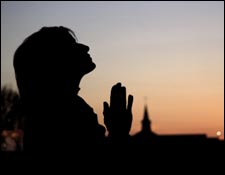 . . . if someone goes to them from the dead, they will repent." He said to him, "If they do not hear Moses and the prophets, neither will they be convinced if someone should rise from the dead. Luke 16:30b-31
I once was asked, "If Al Capone offered your church a million dollars, and you knew that money came from illegal activities, would you take it?"

Over the years, I've shared that question with other pastors and have received a spectrum of different and, sometimes, very emotion-filled answers.

The same thing is true in regard to the outreach style of Southern Baptist evangelist Ronnie Hill. Hill, who speaks at rodeos, motorcycle events, and NASCAR races, offers a prize to attract people to hear his message.

Right now, Hill is offering people a chance to win a new car if they listen to his testimony on how Jesus saved his life. Those folks opting to hear his testimony will have their names passed on to a local congregation near them, and one of them will win a car.

Recently, I was asked how I felt about Hill's evangelism tactics. I spent considerable time thinking about my answer. I have my answer; you probably have yours. Maybe you thought bribing people to hear the Gospel story just might work for a lot of folks who might not be reached in any other way. At the same time, I don't ever remember the disciples offering their listeners a chance to win a camel or chariot if they heard the Savior's story of salvation.

In truth, it's not my job to judge Ronnie Hill's methodology. I do know the forgiveness and eternal life Jesus won for sinful humanity remains God's gracious good news of great joy for all people who are brought to faith by the power of the Holy Spirit.

I also know that if freedom from the flames of hell is not motivation enough for someone to believe in the Redeemer, if an eternity of joy in heaven is not enough to get folks to consider the Christ, then something is wrong. To expand Jesus' words in the parable of the Rich Man and Lazarus: "If they do not hear Moses and the prophets, neither will they be convinced if someone should rise from the dead" -- even if that someone offers them a new car.

THE PRAYER: Heavenly Father, You have, through Your Son's suffering, death, and resurrection saved me. Today I pray You will send Your Spirit to touch lost souls with the wondrous good news You so graciously give. In Jesus' Name, I ask it. Amen.


By God's grace, this devotion is freely shared with you. Still, I don't know all the people who need it or should read it. Won't you forward it to that someone? Just click the "Forward this devotion to a friend" link below. You can also direct them to sign up for the DD's at: http://www.lhm.org/email/register.asp.

In Christ I remain His servant and yours,

Today's Bible Readings: Deuteronomy 26-27 Luke 7:1-30
To Download Devotion MP3 to your computer, right click here and select "Save Link As" or "Save Target As" or "Download Linked File As"