"All The Way"
---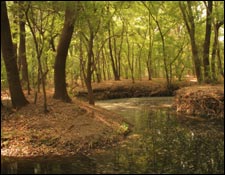 Trust in the LORD with all your heart, and do not lean on your own understanding. In all your ways acknowledge Him, and He will make straight your paths. Proverbs 3:5-6
One of the great mysteries of life is the difficulty people have in making up their minds.

There is a reason for this: in coming to a decision, most people usually only decide to do something halfway. If you want to see this principle in action, just watch a child jump into a swimming pool for the first time. He wants to be in the water, but he's just not sure.

That was not the situation for Cortez when he began his conquest of Mexico in 1519. With a small force of less than a thousand men on shore, the story goes that Cortez set fire to his fleet of 11 ships. His soldiers watched their ships -- their only link back to the outside world, their only way of escape -- burn and sink to the bottom of the Gulf of Mexico.

From that moment on there was only one direction they could go: forward -- forward into Mexico and forward to meet their future and their fate. Cortez was a fellow who believed in going all the way.

God says people who wish to follow Him should also go all the way. That's what the Psalmist was telling us: "Trust in the LORD with all your heart" -- not with a quarter or half your heart.

The Lord knows it is not wise to try and follow Him and the world. There are too many divided loyalties, too many conflicts. When the world tries to pull us one way, God wants us to go the other.

This leads us to an interesting thought, which might have some practical applications. Are your days filled with confusion, pain, and doubt? Do you seem to be spiritually spinning your wheels without getting anywhere? If so, then ask yourself this: "Am I only going halfway?"

This is why this devotion encourages you to let go of the world and let the Lord take hold of you -- all the way. Let Him, because of what His Son has done through His life, death, and resurrection, help and direct you -- all the way.


From a devotion originally written for "By the Way"



THE PRAYER: Dear Lord, lead me past my own shaky understanding and empower me to trust You. Guide my path as I follow the Savior who went all the way to rescue me. In His Name. Amen.


Many people share e-mails with groups of people. Some are humorous; some are newsy. If you are a person who has forwarded things in the past, why not forward a Daily Devotion? Let the receiver know that they, too, can receive them by signing up at: http://www.lhm.org/email/register.asp. Remember, it doesn't cost a thing.

In Christ I remain His servant and yours,

Today's Bible Readings: Deuteronomy 14-16 Luke 5:1-16
To Download Devotion MP3 to your computer, right click here and select "Save Link As" or "Save Target As" or "Download Linked File As"