"Known but Unknown"
---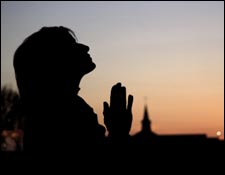 O LORD, you have searched me and known me! Psalm 139:1
If you live in a city, town, or suburb, most of you will pass hundreds of people on your way to work.

Most of the time we don't know a single one of those folks. We feel, and almost always are, anonymous. Which is, quite frankly, just another way of saying we are lonely and alone.

If you really want to talk about loneliness, you need to remember the young woman who was shot to death on a road near Kansas City, Kansas in 1934. With her red hair, freckled face, blue eyes, and a unique scar on her ankle, one hundred fifty people "positively" identified her.

That's right, 150 people identified her as being... 26 different women. She was claimed as a wife, a sister, a daughter, and a friend. Amazingly, all of those 26 women were found to be alive. After seven long months, the red-haired woman was buried. Nobody ever found out who she was.

This leads me to ask, "Does anyone know who you really are?"

Oh, I imagine some people THINK they know, but do they? They may know a part of you, but who knows every bit and part of you? Every mood? Every thought?

The next question is: "Would you want them to know?" Most of us have some pretty sad sides to ourselves.

If you agree, don't despair. Today it is my joy to share with you that the Triune God Who knows you, all of you, still loves you. He loves you--totally and completely. He loves you enough to send His only Son to live, die, and rise for you.

And if you were to ask me, "Why? Why would God do this?" I could only reply, because of His grace.

Amazing, isn't it?



From a devotion originally written for "By the Way"



THE PRAYER: Dear God, thank You for loving me totally and completely, even though You really do know every part of me! Because of Your Son's sacrifice, I am saved and never have to worry about living or dying unknown. With a thankful heart, I pray this in Jesus' Name. Amen.


Do you know someone who might be blessed by the Daily Devotions? If so, please forward this to them, encouraging them to click on this link: http://www.lhm.org/email/register.asp. You may also click the "Forward this devotion to a friend" link below.

In Christ I remain His servant and yours,

Today's Bible Readings: Job 38-40 Matthew 15:21-39
To Download Devotion MP3 to your computer, right click here and select "Save Link As" or "Save Target As" or "Download Linked File As"