"Remember Me"
---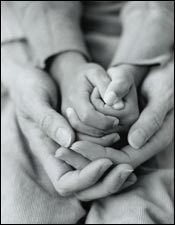 Remember me, O Lord, when You show favor to Your people; help me when You save them. Psalm 106:4
Adam Hermann wasn't the name he was given when he was born. His birth certificate reads: Irvin Groeninger III.

I suppose that fact isn't all that important any more.

You see, no matter what you call him -- Adam or Irvin -- that young man has disappeared. In fact, he disappeared a long time ago.

Adam was 11 or 12 when he was last seen on the streets of his hometown, Towanda, Kansas. That was almost ten years ago. For ten years Adam has been missing.

Only nobody noticed.

Amazingly, Adam's adopting parents never told the police. They thought he had run away and had gone home to his birth parents. They thought he was living on the street. They say they were very concerned, but they didn't call the police. Adam's disappearance was eventually discovered after an individual called and tipped off the County's Exploited and Missing Children's Unit. Since then, people and police have been looking for the lad. If they find him, I'll let you know.

In the meantime, along with our prayers for missing Adam, we need to offer up our thanks to our loving Father in heaven. Though we were lost in sin and no longer part of His family, He did all that was necessary to bring us back.

To seek and save those who were lost, Jesus came into this world. As one of us, He fulfilled the laws we had broken. He resisted the sins that so easily seduce us. So that even death might never take us from our Father, the Savior gave His life on Calvary's cross.

Now, all who believe on Jesus as their Redeemer have been reunited with their Father in heaven.

Rephrasing the words of the Psalmist, I can say I give thanks You have remembered me, O Lord, that You have showed favor to us and helped us and saved us.

THE PRAYER: Dear Lord Jesus, for coming to find me when I was lost and giving Your life that I might live, I will always be in Your debt. Now, I pray, send Your Spirit to restore others who are lost from their earthly, as well as their eternal, families. In Your Name. Amen.

Do you know someone who might be blessed by the Daily Devotions? If so, please forward this to them, encouraging them to click on this link: http://www.lhm.org/email/register.asp. You may also click the "Forward this devotion to a friend" link below.

In Christ I remain His servant and yours,

Today's Bible Readings: Job 30-31 Matthew 13:31-58
To Download Devotion MP3 to your computer, right click here and select "Save Link As" or "Save Target As" or "Download Linked File As"