"Something Extra"
---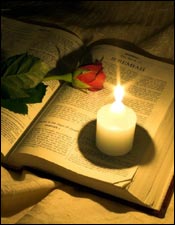 And the angel said unto them, "Fear not, for behold, I bring you good tidings of great joy. . . ." Luke 2:10a
Look for "a little something extra" on your paycheck.

In normal years, " a little something extra" in your paycheck usually meant a bit of appreciation from your employer. Sadly, Christmas bonuses are in short supply and pink slips are not.

This is why I was really amazed to hear what the family-owned Peer Bearing Company of Waukegan, Illinois, did. All 230 employees received a bonus of $10,000 or more. Some workers were given more than $35,000.

Amazing! Fantastic! Wonderful!

No doubt many of our Daily Devotion readers are thinking of running off a copy of this meditation and placing it in a place where their bosses might take a gander at it. (If that's your plan, good luck. Keep me posted if it works for you.)

On the other hand, I would like to point out this year each of us are receiving a very undeserved bonus. The Christmas angel told the shepherds about that bonus when he said, "Fear not, for behold, I bring you good tidings of great joy." Then, he went on to say this "good news" was "for all people."

"For all people" means you. No matter if this year has been profitable or not, filled with successes or not, you are still the proud possessor of Jesus, the Good News of great joy.

Jesus, the rescuer from our sins; the Redeemer of our souls has been born. Because the Christ has come, current events cannot permanently hurt us; difficult times cannot destroy us.

We have been granted forgiveness, been promised a loving Lord who will hear us, and who assured us we are more than conquerors.

Because of Jesus, God's Son, our Savior, we have something -- someone wonderful to celebrate. Indeed, that's what the Old Testament prophet Isaiah said Jesus was - "wonderful." That's our Jesus -- wonderfully good news.

THE PRAYER: Dear Lord Jesus, for coming to us in the midst of life's mess, I thank You. For giving me hope in a world filled with bad news, my deepest gratitude. May I, as You allow, share Your Gospel story with others. In Your Name. Amen.

In Christ I remain His servant and yours,

Today's Bible Readings: Esther 9-10 Revelation 14
To Download Devotion MP3 to your computer, right click here and select "Save Link As" or "Save Target As" or "Download Linked File As"