"Everybody's Doing It"
---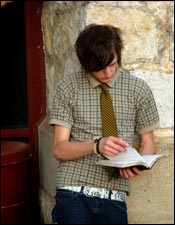 You therefore, beloved, knowing this beforehand, take care that you are not carried away with the error of lawless people and lose your own stability. But grow in the grace and knowledge of our Lord and Savior Jesus Christ. To Him be the glory both now and to the day of eternity. Amen. 2 Peter 3:17-18
Survey results can be boring; they can be fun, and they certainly can be enlightening.

The Los Angeles-based Josephson Institute of Ethics has just published the results of a survey that fits into the last category: enlightening. Having surveyed almost 30,000 students at 100 randomly selected high schools, they found 30 percent of U.S. high school students have stolen from a store and 64 percent have cheated on a test.

Enlightened? It gets worse. One fifth of the students said they had stolen something from a friend and almost a quarter said they had stolen from a parent or other relative.

Does that survey prove kids are bad? Well, there is no question that 100 percent of the students questioned, like the rest of us, are sinners and in need of a Savior.

But exactly what does the survey prove? Personally -- and this is just an opinion -- I think it shows the results of America's education experiment are starting to come in.

We wanted to see how a nation would look if we banished God from the public square, from the classroom, and from much of the lives of our people.

Now we know.

High schoolers on the fringe are making up their death lists and mainstreamers are stealing from mom and dad. It's a dark picture made darker by the fact the experts seem confused why the young seem to have questionable, or non-existent, values.

The question is why should young people have values? Without God, without the Scripture's call to repentance and the Savior's blood-bought forgiveness, there is no authority to which they must answer.

This is why, along with praying for these upcoming generations, we Christian veterans need to let these folks see a Savior of love, of integrity, of power, and self-sacrifice. Jesus, and Jesus alone, can change the results of the next Josephson Institute survey.

That's because Jesus, and only Jesus, can change sinful, self-centered hearts.

THE PRAYER: Dear Jesus, may the day soon come when the world realizes we are all sinners. We are not basically all good; we don't all do the right thing. This is why we need You and the forgiveness You give. May I and all those around me come together to show the value of having a Savior of sacrifice. In Your Name. Amen.

Do you know someone who might be blessed by the Daily Devotions? If so, please forward this to them, encouraging them to click on this link: http://www.lhm.org/email/register.asp.

In Christ I remain His servant and yours,

Today's Bible Readings: Zechariah 5-8 Jude
To Download Devotion MP3 to your computer, right click here and select "Save Link As" or "Save Target As" or "Download Linked File As"