"Oh, Great"
---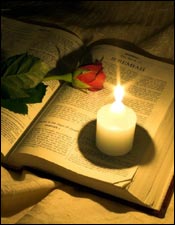 Great is the Lord, and greatly to be praised; and His greatness is unsearchable. Psalm 145:3
Heidemarie Stefanyshyn-Piper was out for a walk.

Her walk was a beautiful one with a view that seemed to go on forever. Everything was wonderful until things started to go wrong.

First, a grease gun in her tool bag exploded, covering everything with gunk. Then, while she was trying to clean things up, she lost track of her tool bag. The next thing you know the bag was gone -- almost as if it had floated away.

Heidemarie's controlled comment of frustration was, "Oh, great."

Did I fail to tell you that Heidemarie was on an extravehicular walk from the space shuttle Endeavor? She was, and by the time she realized what had happened, her bag was out of reach. All she could do is watch it float away.

The folks at Mission Control are still tracking of her tool bag.

"Oh, great!" How many times haven't we said something like that, or worse, when things seemed to spin out of control and drifted beyond our ability to stop them? "Oh, great! A flat tire." "Oh, great! I failed the test." "Oh, great! They're laying people off at work -- again." "Oh, great! Another bill I can't pay."

I'm sorry if I missed your "Oh, great!" That's an omission on my part, not because you don't have them.

In contrast to our helplessness, our hopelessness, our shortcomings, and sins, we are blessed to have a Lord whose greatness is unsearchable.

Remember Him. He's the One whose might is most obvious when we are at our weakest. His strength is not minimized by bad stock markets, or weather conditions, or illness. His power is not diminished by catastrophe or calamity, mishap or misfortune.

He is great -- and He has promised to help us. Indeed, He has already done so with the sending of His Son to be our Savior. Now, because of Jesus' victory, our Father in heaven has given us the assurance He will listen to our prayers and help us through the catastrophes and complaints which seem to be so common.

In short, our great God will be there when our times aren't so great.

THE PRAYER: Dear heavenly Father, it is a blessing for me to know I am not alone. With a Savior by my side, and Your strength watching my back, the sad "Oh, greats" of life can be replaced by, "Lord, You ARE great." In Jesus' Name, I thank You. Amen.

In Christ I remain His servant and yours,

Today's Bible Readings: Ezekiel 42-44 1 John 1
To Download Devotion MP3 to your computer, right click here and select "Save Link As" or "Save Target As" or "Download Linked File As"