"Human Nature"
---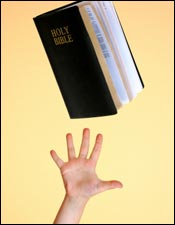 Now faith is the assurance of things hoped for, the conviction of things not seen. Hebrews 11:1
The newspapers are filled with the stories of people who do some not-so-very-smart things.

Having said that, it's a joy to tell of someone who has done something so smart, so very, very smart, that it might almost be called, "a stroke of genius."

Not so long ago, I was calling on a friend who lived in an apartment. The landlord was doing some improvements, and one of those renovations was in the hallways... hallways which had just been painted.

According to custom, the landlord had, at regular intervals, hung large signs, which said, you guessed it, "WET PAINT." Knowing most of us have a desire, a curiosity to check things out for ourselves, on the corner of each sign the landlord had placed a large dab of paint with the words: "PLEASE - TEST HERE."

Truly, most of us like to check things out. Wet paint is just one way we feel compelled to do our own verification.

When somebody tells us the food is too spicy, we need to taste it. When somebody says a TV show isn't worth watching, we feel compelled to tune in. People want to check things out for themselves.

That's fine most of the time, but there are some things that we really ought to take on faith. When the Lord says we should 'flee sin', we ought to listen rather than experiment with that which displeases Him.

When the Lord tells us we should trust His Son and the redemption He has won for us on Calvary's cross, it is right for us to believe the truth of what He says.

Why?

Unlike testing wet paint that will eventually wear or wash off, not trusting God has some very long, even eternal consequences.

Why trust God?

Because His Word is truth, and He simply won't lead us astray.


From a devotion originally written for "By the Way"



THE PRAYER: Dear Lord, I believe, help my unbelief. When I am tempted to doubt, to deny, to wander, keep me steadfast in the faith You have given. In Jesus' Name. Amen.

In Christ I remain His servant and yours,

Today's Bible Readings: Ezekiel 18-19 2 Timothy 3
To Download Devotion MP3 to your computer, right click here and select "Save Link As" or "Save Target As" or "Download Linked File As"