"Trust"
---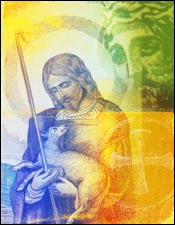 Trust in the LORD with all your heart, and do not lean on your own understanding. In all your ways acknowledge him, and he will make straight your paths. Proverbs 3:5-6
Many years ago, during the month of August, we took our large, white dog to the lake with us. We loved that lake and went there often.... For our dog, it was his first time near a large body of water.

As it had been quite warm, there was a layer of green algae on the surface of the water. You know the kind of green algae that looks very much like a golf course putting green.

Our dog walked down the dock, and without breaking stride, stepped onto what she thought was lush, green grass. Although I don't like to give animals human attributes, when our dog came to the surface, she looked downright embarrassed.

As she was being bathed, she kept looking at us with an expression which seemed to say, "I'm sorry. I'm really not that stupid."

Which all goes to prove we can't always trust our senses. If you doubt that, ride down the road with a child and try explaining why the highway up ahead looks wet, but it always seems to get dry before you get there. Mirages are hard to explain.

Your eyes say one thing; reality says another.

I've found that to be true in other areas of life as well. Just when I think I can trust my car, it breaks down. About the time I decide to trust a person, I often find myself getting let down.
Because it's so hard to trust anything, most folks ought to be glad when they find out there is Someone they can trust: the Savior.

Jesus doesn't lie to us; He doesn't fool us. He doesn't cheat us; He doesn't disappear when we need Him the most. If He were going to do any of those things, He would have done them when He was on trial for His life... a trial that led to His death on Calvary's cross.

No, Jesus stayed true and did all that was necessary for us to be saved. His resurrection showed He is exactly Who He says He was: Our Savior who will be with us always and the One Who will help us carry our sorrows and deal with our troubles.

He is the One Person Who can and will forgive us. Which is something to remember the next time something or someone lets you down.

When that day comes, and every day in between, trust the Lord with all your heart.

THE PRAYER: Dear God, I find gladness in the knowledge that I can trust You. Through the Savior's sacrifice I have seen the intensity of Your love. Please, help me, so that in all I do my paths might be straight, my faith strong, and I live to acknowledge You as my One trustworthy Friend. In Jesus' Name. Amen.

In Christ I remain His servant and yours,

Today's Bible Readings: Jeremiah 3-5 Acts 27:1-26
To Download Devotion MP3 to your computer, right click here and select "Save Link As" or "Save Target As" or "Download Linked File As"