"Evil Imagination"
---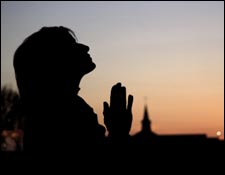 But I trust in You, O Lord; I say, "You are my God." My times are in Your hand; rescue me from the hand of my enemies and from my persecutors! Make Your face shine on Your servant; save me in Your steadfast love! Psalm 31:14-16
Because of a truck bomb, the Marriott Hotel in Islamabad is now an empty shell.

Last week, in an article carried by TIME, Robert Baer, a former CIA field officer and the magazine's intelligence correspondent, concluded that nothing could have been done to save the hotel or the people who died there.

Actually, he said, almost everything that could have been done to protect the hotel had been done.

Located in a well-policed city, the designers of the building had demanded a wide distance be established between the hotel and the street. Even more, every guest who entered the hotel was X-rayed, as was his luggage.

And what else might have assured people's safety? Baer suggests the city might have stopped all traffic and searched every vehicle. Then, he added that doing so was not a very practical possibility. So what this ex-CIA guy is saying is this: if someone wants to plant and deliver a car or a truck bomb, they probably will be able to do it.

I found that frightening. Maybe you do, too.

Of course, a reasonable person might argue, we are always in danger. Bad weather, devastating earthquakes, lightning, physical ailments, and a host of other unexpected problems, can strike us down at any time.

This is why, even though he didn't worry about truck bombs, King David wrote, "I trust in You, O Lord...my times are in Your hand; rescue me... save me in Your steadfast love!"

David realized each of us has enemies. Even the most lovable and gracious of us can count the devil, the world, and our sinful natures as adversaries who are trying to destroy us.

In the face of such malevolent forces, there is only one power that can grant victory, our good and gracious God.

Because of the sacrifice of His Son, each day, each moment of our lives, the Holy Spirit is about the business of preserving us both physically and spiritually.

This is why we who have Jesus as Savior not only ask for God's protection in the future, we give thanks He watches over us even now.

THE PRAYER: Dear Lord Jesus, by Your sacrifice I have been brought into Your family of faith. Although, I am helpless before many dangers; You are not. Guide me, protect me, defend me from all enemies who would hurt my body or harm my soul. Into Your hands I commend myself. In Your Name, I pray it. Amen.

In Christ I remain His servant and yours,

Today's Bible Readings: Hosea 5-8 Romans 15:1-13
To Download Devotion MP3 to your computer, right click here and select "Save Link As" or "Save Target As" or "Download Linked File As"