"Proof For Some "
---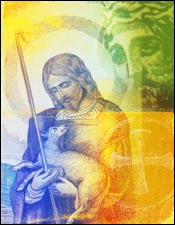 For He will command His angels concerning you to guard you in all your ways. On their hands they will bear you up, lest you strike your foot against a stone. Psalm 91:11-12
It was Sunday morning, and I was preaching at a church in Minneapolis.

When I was two blocks away from the stoplight, it turned green and stayed that way. Even so, I found myself stomping on my brakes. Hard.

At the very moment Pam and I would have been going through the intersection, a car sped through the red light. There is no question; at the speed he was going we would have been seriously hurt, if not killed.

Were we spared because of brilliant driving on my part, or because of a guardian angel? (Those of you who have driven with your pastor already have an answer to that question.)

Me? I believe in guardian angels.

And, according to a poll by the Baylor Institute for Studies of Religion, 55 percent of Americans share that belief. That's right. Fifty-five percent of people, from all economic, ethnic, and social backgrounds said, they have been "protected from harm by a guardian angel." Fifty-five percent of us believe the Lord's angels have been directly involved in keeping us safe from some kind of danger.

Psalm 91, the text for today's devotion agrees. It assures us the Lord commands His angels to guard us. Even so, it's nice to know that many people agree with the Bible and recognize God's angelic safeguards in their lives.

This is why this devotion encourages you to give thanks to the Lord. Most certainly we praise Him for sending His Son to live and die and rise to procure our forgiveness and eternal home in heaven.

But we should also say frequent prayers of praise for all the things -- the calamities and catastrophes and tragedies that have never happened.

That's right. We ought to thank the Lord for the accidents which never happened, the falls we never took, the illnesses we didn't get, the bones we didn't break, the surgeries that never took place, the children who were never kidnapped or struck by a car.

THE PRAYER: Dear heavenly Father, there are many times You have kept me safe without me knowing I was in danger. For the good You give, and the bad You hold at bay, you have my deepest thanks. May I be appreciative of these blessings of protection as well as the Savior who has rescued me from humankind's mortal enemies: sin, death, and devil. In Jesus' Name. Amen.

In Christ I remain His servant and yours,

Today's Bible Readings: Isaiah 65-66 Romans 13
To Download Devotion MP3 to your computer, right click here and select "Save Link As" or "Save Target As" or "Download Linked File As"